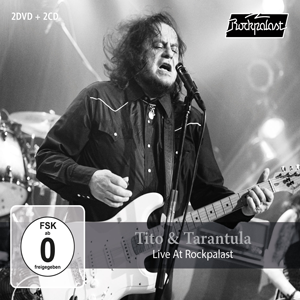 Downloads


PRINT_Cover (2,9 MiB, 1 hits)
You do not have permission to download this file.


WEB_Cover (1,3 MiB, 1 hits)
You do not have permission to download this file.


Presskit_PRINT (3,2 MiB, 0 hits)
You do not have permission to download this file.


Presskit_WEB (1,8 MiB, 0 hits)
You do not have permission to download this file.
Tito & Tarantula
Live At Rockpalast
Tito & Tarantula – Live At Rockpalast
Ein zwielichtiger Strip-Schuppenmit dem subtilen Namen "Titty Twister" irgendwo im Niemannsland hinter der mexikanischen Grenze. Einer Hohepriesterin gleich betritt eine Tänzerin (Selma Hayek) vor der versammelten Halbwelt die Bühne. Feuersäulen eruptieren. Ein perlend-prägnantes Gitarren-Lick setzt ein und ihr lasziver Schlangentanz beginnt, begleitet von den nicht minder hypnotischen Klängen des Songs "After Dark", dargeboten von einer Hausband in Mariachi-Anzügen: Tito & Tarantula.
Diese Szene aus Robert Rodriguez' Kultfilm und Quentin Tarantino-Kollaboration "From Dusk Till Dawn" dürfte sich für immer in das kollektive Bewußtsein der Popkultur eingebrannt haben, seit sie 1996 zum ersten mal über die Leinwand flimmerte.
Die erste internationale Erfolgsphase dokumentiert der Rockpalast Auftritt vom 21.06.1998 auf der Loreley treffend. Es war Tito & Tarantulas drittes Gastspiel auf deutschen Bühnen, damals noch mit Violinistin und Mandolinenspielerin  Lyn Bertles.. Die brodelnde Mischung aus Blues, Rock und Americana zog das Publikum genauso in ihren Bann, wie das zwielichtige Publikum in der berühmten Filmsequenz.
Während Tito & Tarantula in den Folgejahren und in wechselnder Musikerbesetzung weiter Alben veröffentlichte und konstant auch auf unserem Kontinent tourte, gehört die als Bonus auf DVD 2 enthaltene Aufzeichnung sicherlich zu den ungewöhnlichsten Konzert Geschichten, die ein Musikerleben schreibt. Als Club-Show geplant (Fassungsvermögen 350 Leute), war der Zuschauerandrang so groß, dass man das Konzert kurzerhand auf die Straße verlegte und mit einer spontanen Open-Air-Show vor 5.000 Leuten aus der Not eine Tugend machte.
Der Rockpalast Auftritt aus dem Herbst 2008, aufgezeichnet in der Bonner Harmonie, zeigt Tito & Tarantula dann nicht minder unvergesslich und in ihrer vielleicht natürlichsten Umgebung: Zu stimmungsvoll schummrigem Licht spielt die Band ein heißblütiges Set aus Stücken ihres damaligen Albums "Back Into Darkness".
---
Tracklist:
CD1
October 24, 2008 at Rockpalast Bonn/Harmonie
Intro Rockpalast 00:50
In My Car 03:54
End Of Everything 03:38
Motorcycle Girl 04:50
Strange Face 05:32
Clumsy Beautiful World 03:44
Monsters 03:46
Dust And Ashes 04:55
La Flor De Mal 04:51
Murder 03:33
Machete 03:44
After Dark 10:14
Angry Cockroaches 07:05
Come Out Clean 05:48
La Bamba 02:40
Total:                                                                69:12
CD2
June 21, 1998 at Rockpalast Loreley
Killing Just For Fun 04:57
Smiling Karen 04:44
Jupiter 06:41
Back To The House 05:34
Slippin' & Slidin' 04:42
Sweet Cycle 05:40
She Chain 04:35
After Dark 06:18
Ivy 04:22
Strange Face 05:56
Total:    53:35
DVD1
October 24, 2008 at Rockpalast Bonn/Harmonie
Intro Rockpalast 00:50
In My Car 03:54
End Of Everything 03:38
Motorcycle Girl 04:50
Strange Face 05:32
Clumsy Beautiful World 03:44
Monsters 03:46
Dust And Ashes 04:55
La Flor De Mal 04:51
Murder 03:33
Machete 03:44
After Dark 10:14
Angry Cockroaches 07:05
Come Out Clean 05:48
La Bamba 02:40
Bonus:
Bonn Harmonie October 24, 2008 – Interview 03:34
Burg Herzberg Festival 2005 (Rockpalast)
After Dark 07:59
Forever Forgotten & Unforgiven 04:02
DVD2
June 21, 1998 at Rockpalast Loreley
Killing Just For Fun 04:57
Smiling Karen 04:44
Jupiter 06:41
Back To The House 05:34
Slippin' & Slidin' 04:42
Sweet Cycle 05:40
She Chain 04:35
After Dark 06:18
Ivy 04:22
Strange Face 05:56
Bonus:
Sarajewo 2002
Crime & Shame 03:30
It's My Mistake 03:00
Hey Hey Hey Whada U Say 02:30
Strange Face 05:55
Goodbye Sadie 05:09
Clumsy Beautiful World 03:45
In Between 02:40
Smiling Karen 04:54
German Fräulein 03:51
Effortless 03:49
Back To The House 04:59
You're The One I Love 03:18
Torn To Pieces 03:19
Crack In The World 03:59
After Dark 07:20
Dead Person 03:32
Missed Your Eyes 03:12
Angry Cockroaches 04:13
---
Photos: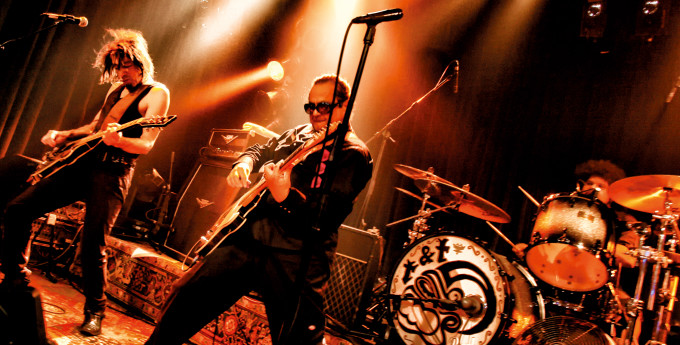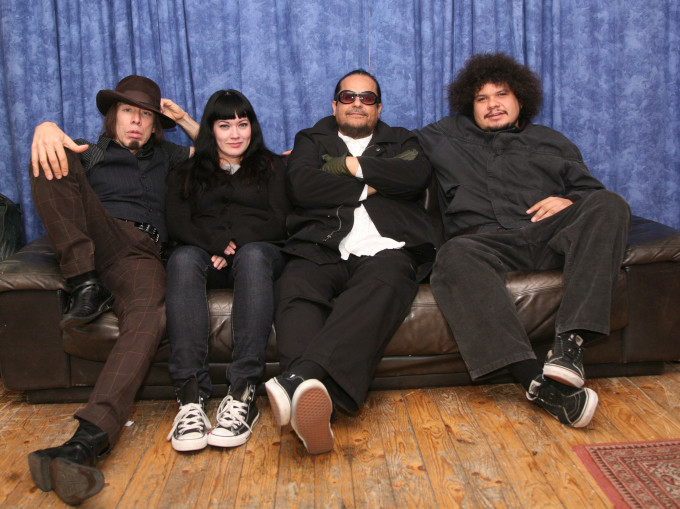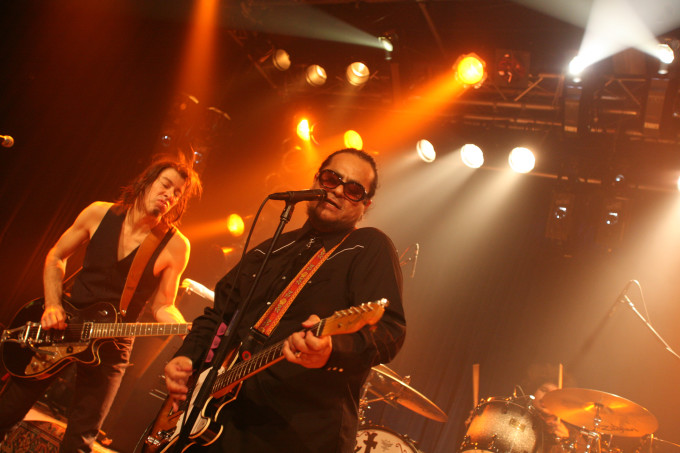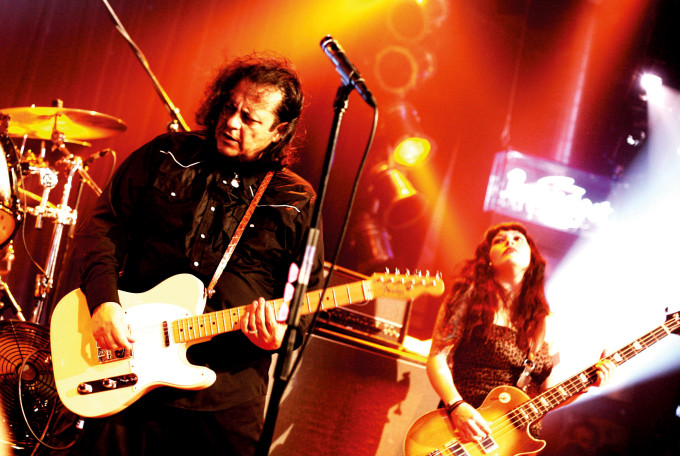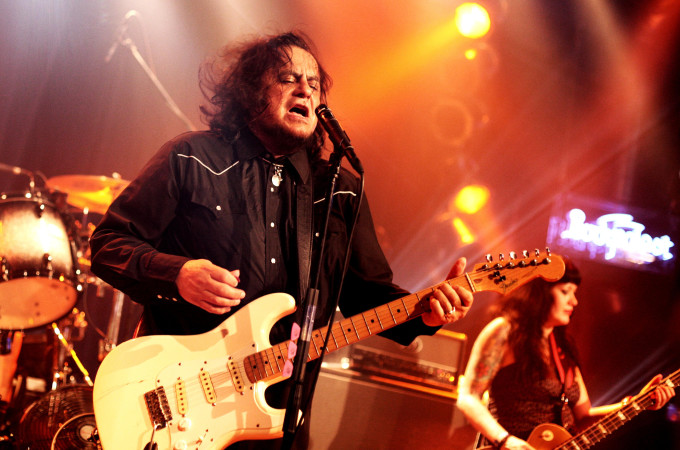 photos by Reinhard Naekel
---