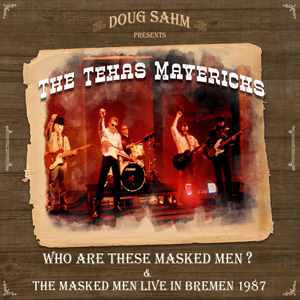 Downloads


PRINT Cover (2.3 MiB, 0 hits)
You do not have permission to download this file.


WEB Cover (1.0 MiB, 3 hits)
You do not have permission to download this file.


Presskit PRINT (2.5 MiB, 0 hits)
You do not have permission to download this file.


Presskit WEB (1.2 MiB, 0 hits)
You do not have permission to download this file.
Nowadays an artist like Doug Sahm would probably be called a hyperactive or workaholic as the singer, guitar wizard (guitar, steel guitar, mandolin and violin) and songsmith was somebody who crossed the borders between country, blues, influences from the British invasion, Honky Tonk und Psychedelia. Sahm who was born on November 6, 1941, in San Antonio, Texas, today is regarded as one of the forefathers of Tex-Mex because he mixed all these influences with Mexican elements like Conjunto.
And all these varieties he cultivated mostly at the same time in parallel conducted bands.
Of course, the name Doug Sahm is being connected with the legendary Sir Douglas Quintet which became immortal with classics like "Mendocino", "She's About A Mover" and "Dynamite Woman". Or with the band Texas Tornados which are still are on tour up to this day, even after the early death of their mastermind on November 18, 1999, now lead by Shawn Sahm, a son of Sir Doug. But there was another combo, one that has been a bit forgotten – probably due to its short time of existence – totally unjustified: the Texas Mavericks from the second half of the Eighties.
This quintet gained music historical importance not only in Sahm's home of Texas but in particular by offering the front man an additional platform to try something new. For this style, a new term or category was being created: "white boy music", as a counter-pole to "black boy music" which at that time meant blues. Rockabilly and rock'n'roll of the late Fifties delivered the pattern that Sahm and his companions adopted and played in their very own character.
It was more of a coincidence that led to the founding of the Texas Mavericks, as long-term Sahm sideman Miller "Speedy" Sparks who took part at that time as bassist, remembers. "Doug was supposed to play at a friend's wedding in Austin and looking for fellow musicians", Sparks recounts. "It was too much of a deal to pick up his pals from San Antonio, and so he asked me, who I could recommend. I suggested John Reed as a guitarist, as well as a friend who was a drummer. We did a couple of rock'n'roll numbers and had so much fun that we kept on – performing in a club in Austin once a week."
Next to front man Sahm, Sparks and Reed a solid band developed with Frosty Smith on drums and Alvin Crow on the fiddle joining in as a co-singer. "The only premise that we had given ourselves was that we play rock'n'roll. At first, we were a mere cover band playing songs by Buddy Holly, Chuck Berry, the Rolling Stones and Van Morrison – all things that meant uncharted territory for Doug. Before, he had played blues, rhythm & blues and Tex-Mex but never rockabilly or rock'n'roll. That is why Alvin Crow sang some of these tunes."
Sparks ran his own label in Austin at that time, Dynamic Records. "Thus I had contacts to Europe, to New Rose Records in France, and they really wanted an album by the Texas Mavericks. So we went into a studio for three days and recorded one that was released by New Rose and Sonet in Sweden. On a whim of Sahm it was titled "Who Are These Masked Men?" "At that time Doug wanted to be somebody else, so we put on masks and made up some fantasy names. Pretty quick it became obvious who was behind the Texas Mavericks", Sparks remembers.
Thanks to his good contacts in Europe Sahm booked a European tour parallel to the album release which also brought the quintet to Germany in 1987. "I do remember that we played in Hamburg, Berlin, Stuttgart, Bremen and probably several other cities. Mostly it was clubs and smaller halls – just the right size for this kind of music and we really enjoyed it." At that time Mike Buck sat at the drums because Frosty Smith did not want to tour. "I did not have a clue that Radio Bremen had recorded our show – I only know since the summer of 2016 when I was listening to the recordings for the first time," Sparks reveals. "And I am thrilled with it – I like these recordings better by far than the studio recordings because they have captured all that what the band was about at that time: pure energy, enthusiasm and simply class. I finally figured out what a magnificent rhythm guitarist Doug really was when I listened to this edit", Sparks nearly goes into raptures.
After the visit in Germany, the chapter "Texas Mavericks" was soon closed again for Sahm. "Doug had so many bands running side by side and considered the Mavericks primarily as a fun project – he had the Sir Douglas Quintet, his Blues band and of course the Texas Tornados, there was no time for another combo", Sparks explains the short lifespan of the Texas Mavericks. After all, the re-release of "Who Are These Masked Men?" with the Bremen concert as bonus CD brings back the memory of the man that many consider as the forefather of the Tex-Mex scene.
Philipp Roser
Line-Up Studio
Frosty Smith – drums
Doug Sahm – vocals
Miller "Speedy" Sparks – bass
John Reed – guitar
Alvin Crow – violin, vocals
Line-Up Live in Bremen
Mike Buck – drums
Doug Sahm – vocals
Miller "Speedy" Sparks – bass
John Reed – guitar
Alvin Crow – violin, vocals
---
Tracklist:
CD 1 "Who Are These Masked Men?"
1.    I Fought The Law    02:21
2.    Rock N Roll Ruby    02:15
3.    Just Let Her Go    02:32
4.    One More Time    03:43
5.    Brown Eyed Girl    03:23
6.    Hillbilly Soul And A Rockabilly Mind  03:39
7.    Loven You Best    02:42
8.    Redneck Rock    02:17
9.    Sister Terry    04:07
10.    Mother In Law Blues    02:18
Total:    29:17
CD 2 "The Masked Men live in Bremen 1987"
1.    That'll Be The Day    02:30
2.    Texas Tornado    03:34
3.    One More Time    02:42
4.    Not Fade Away    03:40
5.    Brown Eyed Girl    03:35
6.    She's About A Mover    04:15
7.    Rave On    02:30
8.    Sometimes    02:43
9.    Give Back The Key To My Heart    04:30
10.    Don't Slander Me    03:17
11.    Starry Eyes    02:49
12.    Redneck Rock    02:28
13.    Mendocino    03:57
14.    Johnny B. Goode    04:02
15.    You're Gonna Miss Me    05:38
16.    La Bamba    05:01
Total:    57:11