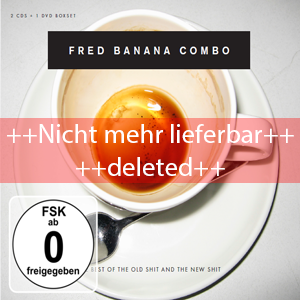 Downloads


PRINT Cover (2.1 MiB, 0 hits)
You do not have permission to download this file.


WEB Cover (216.7 KiB, 0 hits)
You do not have permission to download this file.


PRINT Kit (3.5 MiB, 0 hits)
You do not have permission to download this file.


WEB Kit (1.2 MiB, 0 hits)
You do not have permission to download this file.
Fred Banana Combo
The Old Shit / The New Shit / The Live Shit
Attention everyone! No need to search further. The "Album of 2015" is here: NEW SHIT from the unbelievable Fred Banana Combo, which has resurfaced from scratch and drums, strums, punks out, and rock and rolls out in the original lineup. To sum it up in one word: good shit!
The feeling which you search for is called "sensation." Yes, here they are again: Gottfried Tollmann, Nicolle Meyer (vox/drums), Bill Brown (vox/bass), Charly T (drums) and Dizzy Fischer (trombone).
And it continues in 2015 as it had started in 1978 (37 light years ago) with happy vibes, with driving beats, with out-of-control brass, with distorted guitars. It is pop but not pop. It is funky, but no funk. It is punky, but no punk. It is avant-gard, but no bullshit. It has what has gone missing in the ProTools/MacBook era: The fun factor. FBC is simply fun. The best bet is to dust off your old guitar and play along. Easygoing 3-chord post-punk/neo-pop, making one's legs twitch and head shake. Cryptic texts, intricate sound patterns, the mise-en-scène of nonchalance – FBC has neither lost their charm nor their crispness. Quite the opposite!
The smarty-pants among us discover many references: The Cure, Siouxsie & The Banshees, Blondie, Pogues. Sing-along folk melodies ("Down To St. Pancras"), propelling power hymns with noisy guitars ("Freddy Mercury"), brass-driven up-tempo beats with staccato vocals ("Place To Be") and then the filet of the album "Splinters" in two great versions.
What should one know about the past? Well here is an example. The first Single "No Destination Blues" | "Jerk Off Al Night Long" was released in 1978 by Warm Records in London. On the second single "Yesterday" a wave-version of the Lennon/McCartney title became an FBC repertoire classic. Everything can be heard again on the 1980 debut "Fred Banana Combo". Conny Plank, the legendary sound engineer, krautrock pope and avant-garde producer, sat at the control desk for the premiere and following albums "The Incredible Fred Banana Combo" (1981) and "The Fred Banana Combo" 1983 as well as "The Fred Banana Combo" 1987. Concerts on a national and international level followed as well as a "Rockpalast" performance – the Fred Banana Combo practiced in the basement of the legendary Düsseldorf music bar Ratinger Hof, they were counted as one of the best, tightest and wittiest live acts of their time. Despite (or because) of their sleeper status, they belonged to the defining formations of the punk era in Germany. Always close to a breakthrough and too good to be true. A reunion in 1988 and the fourth album "The Fred Banana Combo" with the musician Stefan Krachten did not bring the desired success. The band broke up and the members scattered around the world and worked on different projects.
And now the surprise in 2015: The Fred Banana Combo is back with a bang! Tollmann comes from Paris and Nicolle from New York. Dizzy, who worked with Tom Waits for years, bumped into the old colleagues such as Charly T, who in his time went to German stadium rocker Westernhagen. As a special guest Tollmann invited singer Sarah Jay among others. Yes, this is the lady who refined the song "Dissolved Girl" on the "Mezzanine" album from Massive Attack.
On the "New Shit" CD Sarah Jay makes the ballad "Splinters" sparkle and brings powerful whispers, conjuring adlibs and her beautiful deep timbre creates voluptuous suspense.
"New Shit" is a part of a deluxe edition, which will now be released on MIG-Music with the CD "Old Shit" ("best of" songs from 1977-1983) and a DVD with the Rockpalast recording from 1980, as well as a extended booklet created with love which includes a large amount of previously unreleased live photos and texts.
They say "the shack that burns brightest is an old shack". And the unbelievable Fred Banana Combo is really on fire! In July 2015 they will give a free concert in the club they rented for rehearsals in Dortmund. Be there or be square! No more boring music.. No more music for wimps and squares. No more conforming to the generic standarts of the adult contemporary air waves. Perhaps after 37 years, the well deserved and overdue breakthrough?! With "Splinters" for example, where you hear next to the impressive Sarah Jay Hawley the last recording of Stefan Krachten on drums. (R.I.P brother)
There is still so much more to say about "New Shit" but who reads nowadays. The option is called listen and enjoy!
Teddy Hoersch, May 2015
Farewell to Gottfried Tollmann (FRED BANANA COMBO)
It has been a very sad farewell to Gottfired Tollmann, who died October 6th 2015 after a fast and fatal disease. Gottfried, who together with his band FRED BANANA COMBO has been one of the great forces in the so called Düsseldorfer Szene of the late 70s amongst few others, wanted to enter the stage again and put all his effort in reuniting the FBC. They succeeded with the boxset " The Best Of The Old Shit And The New Shit " including a best of FBC, a DVD to their Rockpalast concert in 1980 and a full new album. His fatal desease sadly detained them from presenting it live.
On his explicit request we are now presenting his last video, which has been recorded a few days before his death. It is a document of a great musician and we will honour this last public sign of life with great respect.
Gottfried we won't forget you.
Your MIG Team
Tracklists
CD 1 "The Old Shit"
1.     The Captain – 03:25
2.     Riding To Rome – 01:41
3.     Idi Amin – 01:05
4.     Krauts – 03:10
5.     I Don't Know – 01:55
6.     Last Dance – 00:35
7.     Yesterday – 02:34
8.     Nowhere bei Mir – 03:45
9.     Rich And Fat – 01:20
10.   My Girl – 02:10
11.   Bird On The Wire – 03:30
12.   The Heartbeat And The Train – 05:05
13.   No Destination Blues – 01:57
14.   Ring – 03:42
15.   Johnny B. Goode – 02:17
16.   Slow Die – 05:05
17.   Strange Sound – 01:51
18.   One Of Them All – 03:05
19.   I Don't Know (alt. Version) – 01:55
20.   Soldaten des Gruenen – 08:06
CD 1 complete: 58:13
CD 2 "The New Shit"
1.     Songs Of Condition – 03:12
2.     Bookshelves – 03:18
3.     Saint Pancras – 03:15
4.     Manana – 02:43
5.     Splinters – 05:28
6.     Song Of Inland – 03:19
7.     Freddy Mercury – 03:02
8.     Splinters(feat.Sarah Jay&Stefan Krachten) – 05:43
9.     Song Of Dog – 02:12
10.   Song Of World – 03:04
11.   That's The Place To Be – 02:42
CD 2 complete: 38:00
DVD Rockpalast "The Live Shit"
1.     Midnight Hour – 02:57
2.     Rut Of Love – 02:28
3.     Runaway – 01:52
4.     I Don't Know – 01:49
5.     Riding To Rome – 01:52
6.     Fascination – 02:18
7.     Land Of 1000 Dances – 02:08
8.     My Girl, Idi Amin – 03:11
9.     Pleae, Please, Please – 01:18
10.   She Loves You – 02:25
11.   Boxer Dog – 02:18
12.   Thursday – 02:30
13.   Disco Dream – 01:01
14.   No Destination Blues – 02:15
15.   Strange Sound – 02:11
16.   Yesterday – 02:36
Video
Fotos