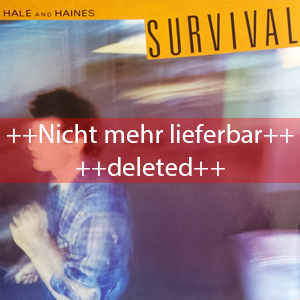 Downloads


PRINT Cover (2.6 MiB, 1 hits)
You do not have permission to download this file.


WEB Cover (250.9 KiB, 1 hits)
You do not have permission to download this file.


PRINT Kit (2.7 MiB, 4 hits)
You do not have permission to download this file.


WEB Kit (573.6 KiB, 1 hits)
You do not have permission to download this file.
Hale And Haines
Survival
David Bowie had just finished his Berlin trilogy with the album "Lodger" when the New Wave protagonists Gus Hale and Denis Haines decided to record their new project HALE & HAINES in Berlin which at that time was still divided by the wall. For young sound wizard Denis Haines who had previously proved his talent as keyboarder and songwriter with the HOLLIES, GARY NUMAN and the EDGAR BROUGHTON BAND, the former studio of Berlin's electronic rock pioneers TANGERINE DREAM, the Paragon at Bundesallee, was exactly the right surrounding. For nearly two months the two Englishmen locked themselves in there to create their album "Survival". From the British island came several good friends to accompany this project. Johnny Warman, at that time in the charts with the album "Walking Into Mirrors" and the single "Screaming Jets"' (with Peter Gabriel), as well as RUSSELL BELL from the GARY NUMAN BAND played the guitar and John "Rhino" Edwards (former JUDY TZUKE BAND, DEXYS MIDNIGHT RUNNERS and since 1986 STATUS QUO) provided the bass sounds.
The album "Survival", first released in 1982 with Polydor has two parts: The first four tracks (side A of the 1982 album) consist of richly produced synth pop with a strong flavour of New Romantic which develop their very own charm and reflect the zeitgeist of the early 80's. Side B of the vinyl was called "their Berlin side" by HALE & HAINES. Nearly all of these tracks evolved during the production at the Paragon where Gus Hale und Denis Haines process their impressions of strolls through the divided city, of long walks and drives as well as encounters within the districts of Kreuzberg, Neukölln and Wedding. Dennis Haines paints rather dark but melodic soundscapes, in a way reminiscing of Bowie's "V2 Schneider"; there are lyrics like "I'll run across that no man's land, take my life into my hands. For the first time" (from "Over The Wall"). This reference to the atmosphere of the city Berlin is even increased in the bonus material, especially in the track "Karl-Marx-Strasse". But also the other session outtakes "Strangelands"' and "Curtains" that have been reworked by Haines come atmospherically close to this subject. Here, Haines creates a nearly melancholic and pensive mood. The album "Survival" ends with the gigantic epic "Echoes Of Final Goodbyes".
HALE & HAINES finished working at "Survival" by laying last overdubs and mixing at Ridge Farm Studios in Dorking /UK, a place where QUEEN, ROXY MUSIC und WET WET WET among others produced their albums as well. Gus Hale and Denis Haines spent nearly half a year in the studio to finish "Survival", the cost of production was more than 125.000 pound – today an unthinkable endeavour, let alone financially.
Tracklisting:
Survival 04:05
Take Me Away 04:19
To Love You 03:40
Count To Three 04:51
Softly The Morning Comes 03:51
Isolation 04:55
Over The Wall 06:17
Echoes Of Final Goodbyes 05:27
Bonustracks
Curtain 04:02
Karl Marx Strasse 04:50
Srangelands 03:46
Final Curtain 01:15
 Total:   37:25