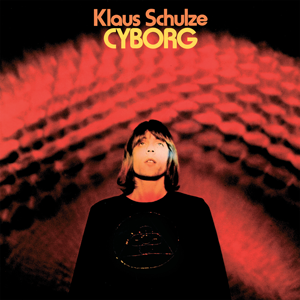 Downloads


PRINT Cover (3.0 MiB, 0 hits)
You do not have permission to download this file.


WEB Cover (766.3 KiB, 0 hits)
You do not have permission to download this file.


PRINT Kit (5.1 MiB, 1 hits)
You do not have permission to download this file.


WEB Kit (3.3 MiB, 0 hits)
You do not have permission to download this file.
Klaus Schulze
Cyborg
Release date: Feb, 26th, 2016
Rerelease of the 1973 released Klaus Schulze album "Cyborg". This popular Klaus Schulze product is upgraded with a generous bonus and detailed liner notesin a 16 page booklet.
Klaus Schulze about "Cyborg":
In its own way, this album is the most consistent ever to be released as "cosmic music". ("Flash"/Germany, 1974) On "Cyborg" I used orchestral tapes, as I had previously done on "Irrlicht" [1972]. One reason was that I thought you could perfectly combine electronic elements with an orchestral sound. It was also because I had almost no gear at the time, just the organ, the twitter synth [VCS 3] and the Revox machine. But this time I had really good tapes by the orchestra, and because of that everything sounded a little bit better than it did on "Irrlicht". Once again, I talked to the music students at Colloquium Musica and asked whether they had any more recordings for me. They gave me a few tapes that they had made in the studio at Berlin University that they used to review what they had played during their rehearsals. For me, it wasn't important if their performance was perfect – I just wanted to have the sound. I then cut the tape and scattered it in little portions on all four sides of the LP like adding spice.
The bonus track "But Beautiful" is a live recording taken from a concert at St. Michael's cathedral in Brussels back in 1977. A great gig, which today you would probably call an "event". The church was so crowded that they opened all the doors so people standing outside could listen too. At first there were policemen standing around the church. But then they went away after they realised that this was a peaceful event. I found it sensational that so many people wanted to hear this kind of music, which was very new at the time. We actually could have released this recording at that time but we didn't think of live albums at all back then. I only listen to such recordings occasionally, so I can see what I could have done better during the show. It was not like it is today when you take a crew to the concerts to record everything and make a DVD out of the material. In hindsight, I'm really glad that Müller [Schulze's publisher Klaus D. Müller] put the recording into archives because the concert in Brussels really was super.
Tracklist
CD1:
1.    Synphära    22:44
2.    Conphära    25:44
3.    Chromengel    23:45
CD2:
1.    Neuronengesang    24:39
2.    But Beautiful (Bonus)    50:45
total:    02:27:37