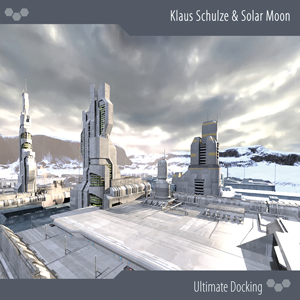 Downloads


PRINT Cover (1.8 MiB, 0 hits)
You do not have permission to download this file.


WEB Cover (783.0 KiB, 0 hits)
You do not have permission to download this file.


Presskit PRINT (1.9 MiB, 4 hits)
You do not have permission to download this file.


Presskit WEB (1.0 MiB, 1 hits)
You do not have permission to download this file.
Klaus Schulze & Solar Moon
Ultimate Docking
New release of the rare and in many respects remarkable Klaus Schulze vs. Solar Moon Album "Docking" (originally released in 2000 in the strictly limited and long exhausted wooden 10-CD-Box "Contemporary Works", advanced with extensive unreleased unpublished material from the recording sessions of Klaus Schulze with Tom Dams' Solar Moon. This 2-CD album definitely became an "Ultimate Docking".
It was a surprise when Klaus Schulze called Solar Moon out of the blue, some late night in Y2K. A few days later, they met Klaus in his infamous recording studio somewhere in the woods of Northern Germany. After talking and "vibing" for hours, they started to initiate the "docking sequence" by putting on one of the typical Solar Moon beats in a loop. Klaus joined in with one of his beloved Moogs.
"Let the rain come" in its original version consists mainly of first take improvisation. Tom's vocal track recording right after they laid down that loop was also first take – and they decided to keep it.
"You get what you deserve" was basically created in the same way, as was "Strong".
If you imagine sitting in KS's recording studio during early hours, floating away on a carpet of trademark sounds in the middle of deep forest, you can probably envision the sheer enjoyment and yet at the same time meditative calm that was inhabiting this docking sequence. At that point in time, we were a band within our own solar moon system, and he was (and is) this monolith travelling in his very own universe… yet the space rendezvous as well as the docking process came effortless and with no holding back from either side.
The most intense yet easiest session of all was definitely "Sugar mode". While the other songs were mostly recorded at night, "Sugar mode" came about one magical morning as the sunrays filtered through the window blinds…  cutting through the enormous amount of cigarette smoke right after a delightful time spent devouring a scrumptious breakfast while listening to J.J. Cale and Herbie Mann.
17 years down the line the decision Solar Moon is most happy about was a hard one to make at that particular time. George had to mildly force Klaus and Tom to stick to the good old Solar Moon tradition, and that is to lay down/ record an extended dub version of the original mix at some point the next day. Some of these versions now finally surfaced from our private vaults and hard-drives throughout the last years, hence they are included in this, the "Ultimate Docking" re-edition.
"Ultimate Docking" showcases/ documents a space rendezvous of a different kind right at the very point of reaching the same orbit… which neither of them would have known existed before they even met. Listening back now to what they created 17 years ago, they remember mystical moments, supernatural feelings and a space station with all cockpit lights and gadgets on high alert.
Tom Dams has continued working with KS ever since – be it producing some of his later albums, mixing all the KS live CDs and surround sound DVDs or 'just' digital remastering the man's vast catalogue.
Although they are still travelling in different galaxies, some parts of Solar Moon have docked with KS forever… and vice versa. Until today, he calls them "Mooningers" and they call him "Lord Helmet, Master of the Boards".
"The man and his music will always have a special place in our heart and we are happy to say that docking with KS has changed our musical and personal lives forever. Thank you KS for sharing your space station." (George Solar, Solar Moon)
---
Tracklist:
CD 1
Let The Rain Come 22:42
You Get What… 22:17
Strong 14:52
Sugar Mode 16:46
CD 1 complete:                                            76:37
CD 2
Strong (Dub Version) 24:36
What You Deserve (Poly Dub) 28:55
What You Deserve (instrumental) 22:34
CD 2 compete:                                             76:05