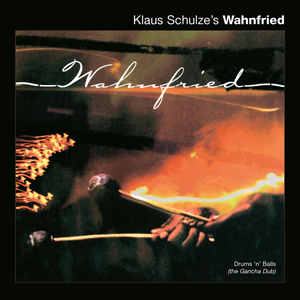 Downloads


PRINT Cover (2.6 MiB, 0 hits)
You do not have permission to download this file.


WEB Cover (538.6 KiB, 0 hits)
You do not have permission to download this file.


PRINT Kit (3.2 MiB, 1 hits)
You do not have permission to download this file.


WEB Kit (1.3 MiB, 0 hits)
You do not have permission to download this file.
Klaus Schulze's Wahnfried
Drums'n'Balls (The Gancha Dub)
Re-Issue of the long searched Klaus Schulze classic "Drums'N'Balls", originally released 1997.
"Drums 'n' Balls" has something that many descendants of ambient music have never learned: depth without showmanship, beauty without kitsch platitudes… ("Musikexpress"/Germany, February 1998)
Klaus Schulze about "Drums'N'Balls":
"I thought before the Wahnfried project falls into oblivion, I'll get the record out under this name even though I made it all on my own. The names of the other musicians, Tim Bales and Katarina Nevaseynewa are only pseudonyms. I adopted this from Walter Bachauer [aka Clara Mondshine, † 18 February 1989] who performed everything by himself on his albums "Luna Africana" [1981] and "Memorymetropolis" [1983 – produced by KS] but then invented seven musicians for "Luna Africana" with some exotic names. However, with "Drums 'n' Balls", I also wanted to have the feeling again of what it's like to play in a band where you don't have the absolute final say. In fact these were samples which my colleagues from SNAP! [Luca Anzilotti & Michael Münzing] had in their archive. They recorded many male and female vocalists and also rappers without end. Then in my studio I noticed you actually cannot really play to these vocals because the voice goes through the Indian quarter tone scale while our keyboard instruments only have semitones. So while I'm playing, I'm racing after the voice with the chords and the pitch wheel. It was really like being in a band where you can't just start playing but have to observe what the other musicians play.
The bonus track "Chicken Biryani" was recorded the year before I did "Drums 'n' Balls". It happens to be an Indian children's song but in a different tonality. For this song I used the second sample of this Indian vocalist. Then I didn't know what to do with this piece, as it wasn't my intention to do a real 'Indian' album. I tend to make single pieces which I pile up over time until there is an occasion to use them on an album. The track didn't really fit on the other album I was making at the same time either, "Are You Sequenced?" [CD no. 52 in this edition]. Later, when I selected the songs for "Drums'n' Balls", I liked the vocals on the other Indian piece ["House Of India"] a bit better. But now, with this re-release, I thought, why should I withhold it from the fans? Because I actually find this piece wonderful, too.
Tracklist:
Drums'n'Balls 15:33
Percussy 12:24
House Of India 15:26
Bass Of Orion 13:44
Bonus:
Chicken Biryani 15:21
Total:  72:28