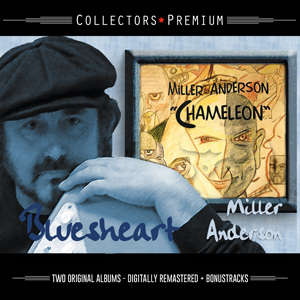 Friends of blues rock will gladly take a note of this day: the third and forth solo album, "Bluesheart" and "Chameleon" by MILLER ANDERSON (not counting the project Hemlock) will be released July 29, 2016 in a collector's edition designed with love and arranged with a 12-page booklet.
MILLER ANDERSON is a living part of music history. All those bands he has been in! With the Keef Hartley Band he was in Woodstock – and only because their manager did not allow filming, the band did not become as famous as the rest. And Keef Hartley did a lot of touring in those days. Then MILLER ANDERSON played with Stan Webb and Chicken Shack, with Mountain, with T.Rex (on tour and their last album "Dandy In The Underworld". A brief encounter MILLER ANDERSON had with Savoy Brown (but that changed a lot, anyway), then he teamed up with Keef Hartley again – in Dog Soldier. Other stations include Ian Hunter, Spencer Davis Group, as well as Chris Farlowe, Roger Chapman, Jon Lord and many more. When asked where he liked it best, MILLER ANDERSON simply said, "they were all fun playing".
MILLER ANDERSON is an absolute heavyweight of the bluesrock scene – that is clear with the first guitar chords of the new recording of "High Tide And High Water" which was released on his solo debut "Bright City" for the first time.
As an extra our Collectors Premium includes two bonus tracks of a live version of his song "Houston (Scotland)" by the Jon Lord Blues Project as well as an unplugged version of "Little Man Dancing".
If you are especially interested in vinyl, maybe you are lucky to find one of the few limited edition "Bluesheart" longplays in blue vinyl.
Right now MILLER ANDERSON is on tour in Germany with his current band and can be seen on July 30, 2016 on the Burg Herzberg Festival.
And the tour continues until autumn. All dates here.
MILLER ANDERSON BAND @ Facebook
…