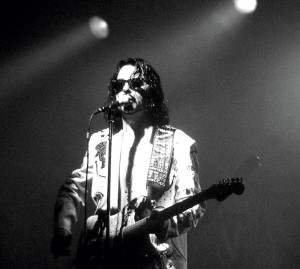 On September 30 2016 MIG Music will release "DAVE STEWART & THE SPIRITUAL COWBOYS– Live At Rockpalast". After Eurythmics, Dave Stewart opened up a new chapter in his career with this band.
It is no secret that he wrote a whole bunch of hits with Annie Lennox like "Sweet Dreams", "Who's That Girl?" or "Here Comes The Rain Again". But many of us are not fully aware of the rest of his colorful life. For example that he began his career in folk music, that Elton John released his first record on his label Rocket, that he not only helped Tom Petty to his comeback but was his neighbour during the time. Besides Petty he also produced Bob Dylan, Mick Jagger and Aretha Franklin.
DAVE STEWART is a first class duo partner. For example at the side of the dutch saxophonist Candy Dulfer he shines with the soundtrack and radio evergreen "Lily Was Here". He collaborated with the ex Specials vocalist Terry Hall under the name Vegas. On the internet you can find lots of newer clips among them one performance with a greek singer named Anna Vissi. He also worked with artists like Gwen Stefani, Stevie Nicks and Joss Stone just to name a few. His albums "The Ringmaster General" and "Blackbird Diaries" he recorded in Nashville. So, nobody can say he isn't active.
DAVE STEWART is for music what Karl Lagerfeld is for fashion: He has a total sense for hits and for quality, a good ear for new talents and an eye for design. He also is a photographer. Dave Stewart simply has style. Follow him on Facebook and Instagram and you will see how much he loves his guitars, how much he travels, where enjoys his evening drink and who he meets. In spring he released his Book "Sweet Dreams Are Made Of This", he organized pop shows called "The Church Keys" in Englands abandoned churches and, of course, released new songs.
It's clear that he loves making music. You especially feel that in the Rockpalast concert from 1990. There is not a trace of melancholy or pain of parting after the Eurythmics split. Stewart plays free mind and loosens up the atmosphere with short anecdotes, plays one or the other solo and shows the crowd and viewers at home what characterizes top notch pop: catchy melodies and diversity. Just as with the Eurythmics you can hear different shades like soul, country and gospel which makes for an exciting song. Peter Rüchel remembers the concert as one of the best he ever saw. And this is not an understatement.