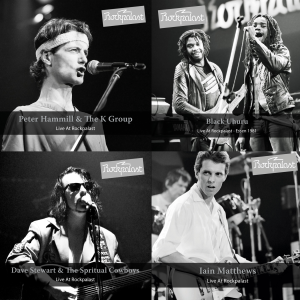 Fans of ROCKPALAST should  attune to a hot autumn. At the time, when days are getting colder and darker again, MIG will be starting a campaign with releases of their popular ROCKPALAST series.
As early as August 26, 2016 two concerts from the year 1981 will be in the shops: that  of the British cult songwriter PETER HAMMILL in Hamburg and that of Reggae legends BLACK UHURU including Sly Dunbar und Robbie Shakespeare in Essen. Following in September will then be DAVE STEWART & THE SPIRITUAL COWBOYS (Köln, 1990) as well as IAIN MATTHEWS & BAND (Hamburg, 1983).
With IAIN MATTHEWS (who was called IAN MATTHEWS earlier) MIG opens a new chapter of the ROCKPALAST edition – for the first time all songs performed in the concert will be released in the original studio version as a bonus CD.
And we are working on further ROCKPALAST releases.