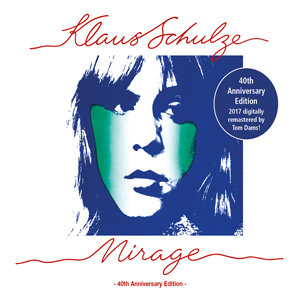 "Mirage" is one of the most popular and important albums within Klaus Schulze's complete creative period. Schulze's 8th album debuted in April 1977. MIG Music celebrates this 40th anniversary with a re-release that has not been released before in a digital format. This new release of the completely revisited work will be available from April 28, 2017.
In the 1980's, "Mirage" had been digitally remastered before. Obviously, this version which had been done under the technical circumstances of the time provided the basis for a variety of further releases. These different CD versions were released more than 30 years ago, and they are all based on this first mastering which is further away from the original than tolerable. Since the original material is no longer available, an extensive cleaning procedure was necessary to come as near to the acoustic origin as possible.
On the occasion of this anniversary MIG Music lay the cult album into the proven hands of Tom Dams (Solar Moon) who has been part of Klaus Schulze's studio team since 1998 when he worked with him on nearly all tracks of the "Contemporary Works". Tom Dams enjoys Klaus Schulze's complete trust and has restored the material. Therefore, MIG is now in the position to present a digital version of "Mirage" which comes as close as possible to its analog origin.
The 40th Anniversary Edition belongs in each library of a Schulze aficionado but it is also a great entrance into the musical worlds of the electronic legend Klaus Schulze. He describes "Mirage" as an electronic landscape in winter where themes like the ice age, winter, downtime but also melancholic scenes like death and farewell are being reflected. The mostly gloomy atmosphere that is flowing through the album like the slow nightfall in the wintertime mirrors the musician's mood whose brother was dying at that time.
As a pioneer and forerunner of electronic music, Klaus Schulze has achieved global recognition due to his musical variety and his multifaceted works. His wide range is to be heard clearly in the bizarre electronic atmosphere of "Mirage". Particularly the epic "Crystal Lake" is beloved by Schulze fans all over the world – and that not only in winter.