A look back into the Nineties, to Berlin. In the then editorial offices of the techno mag Frontpage publisher  Jürgen Lahrmann and Klaus Schulze are standing at the window. On the street down below a huge crowd is moving along, dancing to booming beats – the Love Parade. "Look, Klaus", Lahrmann grins, "what you've caused!" Since that time Schulze is considered as "godfather of techno" and younger generations are discovering his classic albums full of music that, apart from a few exceptions, sounds timeless. Like, for instance, his masterpiece "Mirage", that MIG has re-released in a technically refurbished edition three months ago on occasion of the 40th anniversary of the album release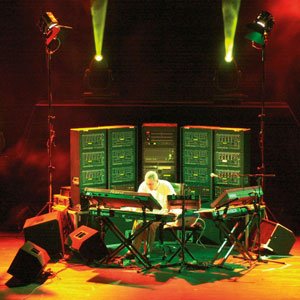 With his sumptuous soundscapes, the former drummer Klaus Schulze indeed is among the first musicians to make electronically produced sounds popular. "The LP Mirage", as the magazine Record World once predicted, "will establish Klaus Schulze long-term as one of the outstanding composers of electronic music." At the end of 1960's Schulze was also one of the few Germans to call a Moog synthesizer his possession. As Klaus remembers in a conversation with his label head Manfred Schütz, he bought the famous Moog III synthesizer from Florian Fricke. In Schulze's studio "Moogybaby" has still a special place in midst of all the technical equipment.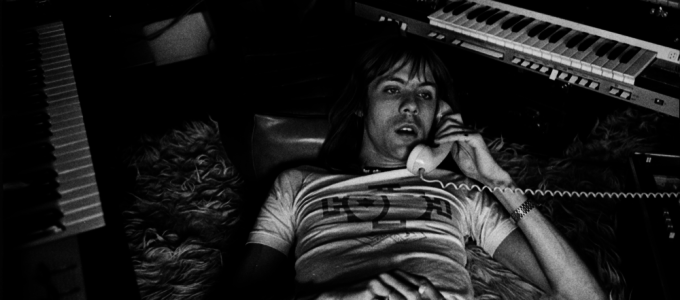 Together with Pete Namlook KS produced a complete series in honor of his favorite toy (or most valued tool): "The Dark Side of The Moog", is available in three boxes with parts 1-4, 5-8 and 9-11.  Actually: Klaus and his collaborations would be another chapter. Musically, KS is always very close to the pulse of time and open to every new kind of music. And he never feels that calling other colleagues is beneath him. One fine evening – it is Klaus' favorite time to work when it is growing dark outside – the phone rings at the studio of Thomas Dams and George Solar. Klaus invites them to come see him in his studio. Solar Moon starts one of their typical beat loops, then Klaus joins in with one of his synthesizers. And at the end of this dream of a session, there is "Ultimate Docking", an album full of rhythm and happy moods. "Docking" was originally released in 2000 as part of the strictly limited and long exhausted 10 CD box set "Contemporary Works" and is now available again enhanced with extensive unreleased material from this session. And to this very day, Tom Dams is Klaus Schulze's trusted sound engineer. He calls Solar Moon lovingly the "Mooningers" and they respectfully "Lord Helmet, master of the Boards".
With the birthday album "Klaus Schulze – eternal. the 70th birthday edition" MIG now releases several partly previously unreleased, partly extremely rare tracks. CD 1 consists of a complete and unreleased Schulze album, and CD 2 contains rare tracks from compilations originally recorded for keyboard manufacturers in very small editions to be given away at music fairs.
The circle of those who love Klaus Schulze and his music is growing continuously still. On behalf of all of them, the team of MIG Music says "Thank you, Klaus, for your music! We congratulate with all our heart and wish you all the best! Please stay with us for a very long time to come!"