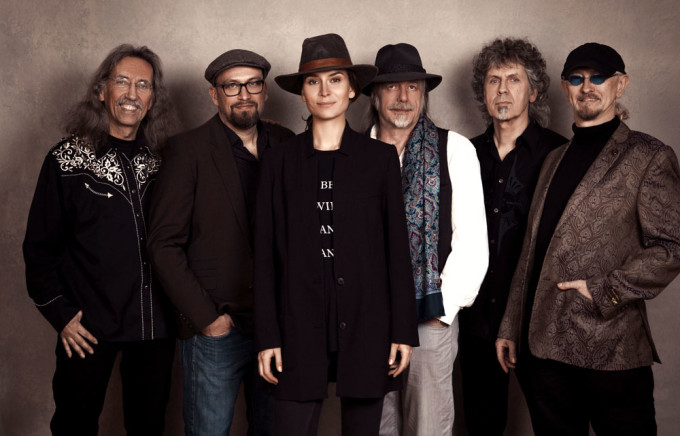 32 years after their last studio album the band Bröselmaschine drops a new long player entitled "Indian Camel" (street date June 23, 2017), bearing an impressive stylistic diversity and a captivating groove.
Bröselmaschine is one of the most influential and durable bands of the republic. The Duisburgers gave guest performances with Pink Floyd, King Crimson, Jethro Tull, T. Rex, Hawkwind, Fairport Convention, Uriah Heep and many others. They have been on tour nearly all around the globe and in founding member Peter Bursch "the nation's guitar teacher" among their ranks.
The current line-up consists of drummer Manni von Bohr, bassist Detlef Wiederhöft, guitarist Michael Dommers, keyboarder Tom Plötzer, Peter Bursch plays guitar and sitar and Liz Blue sings. As guests Helge Schneider, Nippy Noya (percussion) and Lulo Reinhardt are featured as well.
All tracks of the album "Indian Camel" were played and recorded live in the studio. "That's how we recorded our early records and the way we are used to working", explains Peter Bursch. The title track of the album has many tonal colors: sitar and tablas provide the Indian feel; the guitar cites Ravel's "Bolero" and in parts, you can hear club sounds like in a Balearic disco.
"'Indian Camel' is our most important piece on the record", Bursch says, "We have played it in the studio only once. In my head, I had this sitar melody and the rhythm. I played it to the others and they joined in, the recorder was running and after twelve minutes the track was finished. That was huge. We all had goosebumps!"
The special atmosphere of this recording session permeates all tracks of the new album. In "Fall Into The Sky" music comedian Helge Schneider is playing the saxophone, Liz Blue unfolds her beautiful voice, while later, a jazzy piano joins in. Covering a wide range of Indian sounds over to jazz and folk up to earthy blues-rock the convertible band offers a fascinating and fresh musical adventure.
The band will present their new album one day before the release, on June 22, 2017, with a showcase at the Musiktheater Piano in Dortmund.