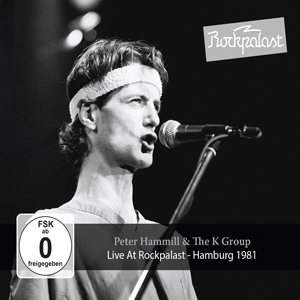 When people hear the name PETER HAMILL most of them think of his old band VAN DER GRAAF GENERATOR. During their time the band delivered stuff only for specialists, people with a faible for uncommen sounds or how dprp.net wrote "Van der Graaf Generator is known for their fusion of intelligent music with literary lyrics".
Last but not least because of Hammill's way of singing. It is not for nothing that he is called "The Voice" (furious.com) by fans who are stunned by his thunderous and opera like cry and his heavenly falsetto. To put it plainly, for this Rockpalast recording from November 26, 1981 you will need to have an open mind, and then after multiple listenings there will come a moment when you will find yourself singing along. That's how good (and catchy) the compositions and arrangements by Hammill and his colleagues are.
Luckily the Rockpalast gig was recorded, because there are only a few official live recordings of PETER HAMILL, neither as a solo artist nor as VdGG leader.
Like most songwriters PETER HAMILL uses different characters. For the Rockpalast he plays the part of the so-called "K". He was accompanied by three familiar faces: former VdGG drummer Guy Evans, ex-VdGG bassist Nic Potter and guitarist John Ellis (also from the VdGG circle). Hammill startet experimenting in the studio with albums like "The Future Now", "ph7″ or "A Black Box"; this way he learned new techniques (among others an early form of sampling). One of the most breathtaking results is the 20 minute long soundpainting "Flight" which he performs live with the K-Group.
The time with K-Group is considered to be the best phase in Mr. Hammill's career and this Rockpalast which is finally available on CD and DVD is one of their finest hours.
As a little teaser before the release we got one song for you to enjoy: