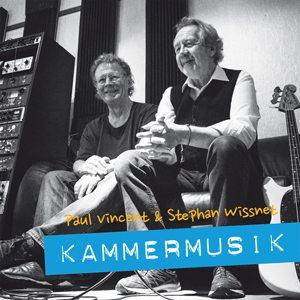 PAUL VINCENT and STEPHAN WISSNET will release their new album "Kammermusik" with MIG Music on September 30, 2016.
People may not know the names PAUL VINCENT and STEPHAN WISSNET but they know their music. Their music is being played frequently on TV, for example in the German hospital series "In aller Freundschaft".
But both guitarist have not only produced their music in a quiet chamber.
Over the course of his career PAUL VINCENT has played with many greats of rock and pop: Freddie Mercury, Sting, Meat Loaf, Gary Brooker, Udo Lindenberg, Stefan Waggershausen, Ulla Meinecke and many more. Furthermore, he has been the producer, guitarist and co author of Wolle Kriwanek for 28 years.  Since 2003 he leads the classic & rock formation Vincent Rocks.
The bassist STEPHAN WISSNET worked for the most part as a sound engineer for artists like Freddie Mercury, Queen, Iron Maiden, Spandau Ballet and Billy Squier, just to name a few. For many years, he was also on bass in the Peter Maffay Band. Furthermore, he is one of the creative heads behind the 60's Munich band Sahara.
Their duet album "Kammermusik" presents eleven minimalistic songs consisting, for the most parts, of two voices, guitar and bass.
By the way:  Beatles fan PAUL VINCENT and MIG Music released an interesting concept album called "LOVE". More here.