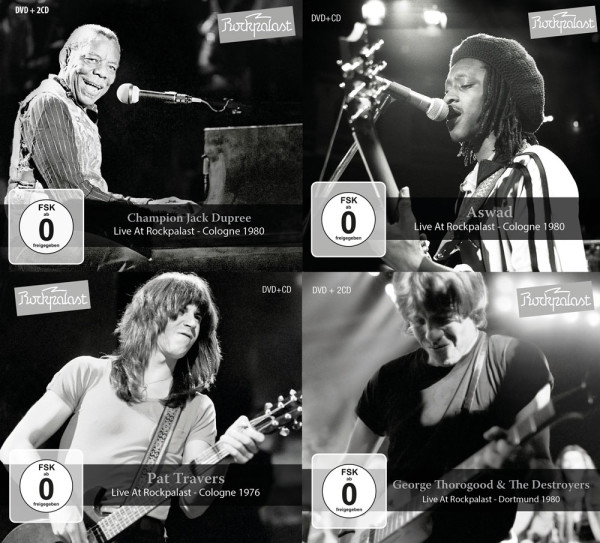 Here is our updated preview of the upcoming ROCKPALAST releases.
The start (as well as the end of the Rockpalast year 2016) will be a special highlight – ASWAD with their superb concert from 1980. The British reggae band from London played on the 3rd of July at the WDR studio B in Cologne. At this point they had only released their first two albums (up to now that are nearly 30!). ASWAD is known to be one the most influential representatives of British Roots Reggae. They came from a time of social unrest in England when movements like Rock Against Racism or Black & White Unite & Fight were uniting bands of diverse musical styles as punk, ska, reggae, wave and rock. Later in their career, the band became more and more commercial and lost quite a number of their original fans. The dubby and raw concert was recorded in their best of times in front of a seated audience.
The next concerts in line to follow: In February 2017 we have CHAMPION JACK DUPREE and GEORGE THOROGOOD & THE DESTROYERS from 1980, as well as PAT TRAVERS, recorded in 1976. In March, a great show by BLUE CHEER and in April comes another of our fine German rock band from the 70's Peter Pankas JANE.
With these historic recordings you can never quite exclude unwelcome surprises with the tapes or during the digital transferring and mastering, so that there can be changes in the release schedule.
That is why the follwing Rockpalast is postponed from spring 2017 to August: Then we take a trip behind the Mexican border, to a shady joint called "Titty Twister" and to TITO & TARANTULA. Become famous with the cult movie "From Dusk Till Dawn" the band around Tito Larriva delivers dirty and bluesy texmex of the highest level. And because one can never hear and see enough of that, this time we have remastered three complete concerts from the years 1998, 2002 and 2008 digitally for you. We decided to have a coloured cover for a change to show that this is the first Rockpalast concert of recent date.