HORACEE ARNOLD – TRIBE/TALES OF THE EXONERATED FLEA
Tribe
For Horacee Arnold, Tribe is more than the name of a song, or the title of an album. The tribe is at the center of his music, and indeed, at the core of the way he views life. "To me," says Horacee, "tribe is another way of saying family.
The family-the tribe has always been the central unit which has brought people together towards common goals." "Unfortunately," he adds, "modern society, with its technology, its materialism, its wars, is bent on destroying the family.
This has happened in America and Europe, and it is also happening in Asia and Africa, where the tribe has traditio-nally been at the center of society. The warmth that the tribe generates is disappearing, and people are becoming more and more detached, alienated from one another.
There is rarely a feeling of real unity and common purpose among people." Through his music, Horacee has attemp-ted to bring back the essence of the tribe. The music on this recording, Horacee's first as a leader, is like dance, which, for the tribe, has traditionally depicted the joy of people coming together-it represents a unity of purpose. The seven musicians on this recording start a dance among themselves: they come together through interplay, by listening closely to one another, by adding what is important for the good of the music itself.
The first section, "Tribe," for example, shows the unity of the band. From the opening conversations between Horacee and guitarist Ralph Towner, there is the awareness that the musicians are playing together, supporting one another.
As the work progresses, more and more textures are laid upon one another, until Horacee, Ralph, percussionist Ralph MacDonald and bassist George Mraz have woven a rich, rhythmic fabric for saxophonist Joe Farrell and vibraphonist David Friedman to work from, leaving both musicians maximum freedom within a very well-defined musical frame-work. Friedman and Farrell, in turn, give support to one another, and to the other members of the band. Nothing stands by itself. The music is more than simply an expression of the technical abilities of the musicians, or the fact that the sessions happened to go extremely well, or that each of the musicians was tuned into one another (all of which happened to be the case).
In each of his compositions (Horacee wrote all but two of the pieces on the album), Arnold planned things very clearly and simply-and always had something musical to say. "I think that music is most powerful," says Horacee, "when things are said simply, but with much meaning. This is something I have attempted with my playing and my compositions." "Tribe" is written in four parts. The first section is devotional: a call is heard by Joe on alto flute, as Dave and Horacee create a giant percussive swell. The piece moves into 6/4, with Ralph Towner producing a sitar effect on guitar to help mold the work into an Asiatic mode.
This is followed by a very free 6/8 section, which conveys an African feeling. Finally, the piece returns to its devotional calling. The banyan tree is found only in Asia. Its huge branches flop to the ground, providing a natural maypole with which children can play. Notice particularly the development of question-response interplay between Joe and Dave, and Dave's ability to play the vibes in a way not dissimilar to that of a pianist.
Horacee wrote "Forest Games" seven years ago. "Games have a lot of importance to me," he says. "They represent an aspect of innocence that I think has been lost. Although some treat games as competition and a threat, I find that they can express the very beautiful simplicity of childhood. "The orchards of Engedi stand in the Judea desert, 36 miles from Jerusalem.
The orchards are very rich and refreshing, and provide a great contrast (and relief) from the barren desert which surrounds it. "I find orchards to be very giving of life," says Horacee. After George's so.lo introduces the composition, tenor saxophonist Billy Harper states the wistful, almost nostalgic melody. This is followed by some spirited playing by Dave, which ends in a short, humorous conversation with George and Horacee.
"The Actor" was a four-year-old that Horacee saw practice the art of pantomime while Arnold was touring with Alvin Ailey in Japan, in 1962. Not only was the boyan excellent mimic, he made his faces to a rather complex rhythm. In this piece, Horacee wanted each of the players to be "actors," in essence, to "put on" while they were playing. The compo-sitions, which begin and end with solos by Horacee, feature some of the most free playing on the album.
Dave Friedman's contribution to the album is "Professor Moriarty." This rhythmically rich work takes only 41 seconds, but still creates a myriad of textures as each of the musicians quietly move in and out of the piece. The final work on the album is "500 Miles High," by Chick Corea, with whom Horacee used to play. (They performed together on Chick's superb recording, Is, on Solid State.) Like most of Corea's compositions, there is a wealth of melodic and rhythmic material, and it gives Billy and Dave a chance to step out.
Tribe represents a double starting point in the career of Horacee Arnold. Although Horacee has been playing profes-sionally for 13 years, and has performed with people like Bud Powell, Charles Mingus, Stan Getz and Chick Corea, this is, for most people, the first introduction to his abilities as a musician and an artist. It is also a starting point in terms of Arnold's beliefs about the tribe. "I feel that one day, we will come back to the basic units of society, and that tribe (and the things it represents) will become important in the lives of people." Horacee, of course, isn't trying to change the world. But with his music, he knows where to start.
TALES OF THE EXONERATED FLEA
True, music has traveled the currents of time in great variety and we have learned much as to how it has been the means for expressing the emotions of peoples from times past till now. No matter what the ethnic group, music has served as a vibrant medium of expression.
From among the people certain ones have come forth to express their feelings, aims and offerings more fully. The music of Horacee Arnold is expressive -a music of feelings, experiences; a music searching and inviting. Inviting you to the dimension where you find, residing there in the stream of time, in the comfort of his own sweet fantasies and in the strength of luxuriant splendor, delightful tales for the ears of the listener. We hear "The Exonerated Flea," who, not unlike men, endeavors to captivate and convince … with his strong, succulent melodies of sweet exoneration and justification.
But what of the understanding (or mis-) … as in the case of "Nightjar," who with his twists and twirls spins in flight as he travels through generations of time singing his songs? With pulsating rhythms, changing from textural density to intense colors as Horacee, Jan, Ralph, Art and Dave help us to hear more from "Night jar" than just his airy whirling flights. Listen closely to all the musicians as they assist "Night jar's" song of "Delicate Evasions," evasions that take you to other places …. A journey that in time brings us to silence .. . A silence like that of "Euroaquilo", the place where exoneration ceases. Experience has verified that after the storm comes the calm, relief … the time when the soothing
blanket of joy spreads itself over all. And so when speaking of "Chinnereth II" (metaphorically) as "smiling", it is because it's the place where the travels of "Nightjar" end. And we hear the true song of a happy people rich with life,
dancing, singing, rejoicing in that final arrival.
---
Tracklisting: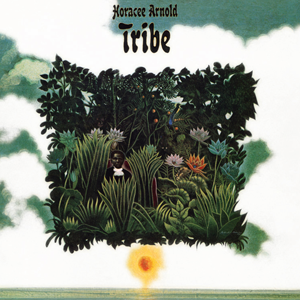 TRIBE
1.     TRIBE 10:14
2.     BANYAN DANCE 7:31
3.     FOREST GAMES 2:25
4.     ORCHADS OF ENGEDI 10:42
5.      THE ACTOR 6:54
6.     PROFESSOR MORIARTY 0:40
7.     500 MILES HIGH 9:11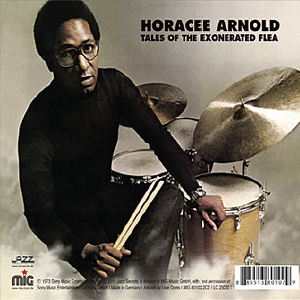 TALES OF THE EXONARATED FLEA
1.     PUPPET OF THE SEASON 4:28
2.     SING NIGHTJAR 11:06
3.     BENZÉLÉ WINDOWS 6:52
4.     TALES OF THE EXONARATED FLEA 3:43
5.     DELICATE EVASIONS 4:27
6.     CHINNERETH II 8:03
7.     EUROQUILO SILENCE 5:40