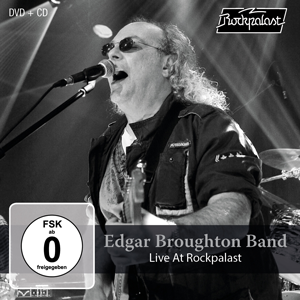 Edgar Broughton Band – "Live At Rockpalast"
Soon after moving from quiet Warwick to London in 1968, the Edgar Broughton Band was signed  by the former Pink Floyd manager Peter Jenner to Blackhill Enterprises and EMI's Harvest label. Their first album "Wasa Wasa" had a heavily blues-influenced and psychedelic sound, hard-driven by Edgar Broughton's gritty vocal style, similar to that of Captain Beefheart and Howlin' Wolf.
Their second album "Sing Brother Sing" was released in 1970, one year before their probably most significant album simply called "The Edgar Broughton Band" (the one with the famous slaughterhouse cover).
In 1971 and 1972, the albums "Inside Out" and "Oora" were released. In 1975, Victor Unitt was replaced by John Thomas on guitar and "Bandages" was recorded for a new label, before they started their farewell tour. The attendant live album "Live Hits Harder" was released in 1979, only. Under the name "The Broughtons", Edgar, Steve and Arthur Grant released two further albums in 1979 and 1981 before they split again.
In 2006, the Edgar Broughton Band finally reformed the original line-up with Edgar's son Luke on keyboards and Andrew Taylor on guitar in 2006. During their tour through England and Germany, they stopped by at the Harmonie in Bonn for this Rockpalast recording. And today, almost 50 years after their foundation, the music still has this special hard, rebel edge it always had, and the hymn "Out Demons Out", fired with the anger at the injustices in the world, is still as relevant today as it was in 1969.
---
Tracklist DVD:
Harmonie Bonn, Germany, March 24th 2006
Evening Over Rooftops 6:31
Anthem 5:10
Speak Down The Wires 4:06
The Moth 2:57
Why Can't Somebody Love Me 4:36
Refugee 4:31
Momma's Reward 4:21
American Boy Soldier 6:12
Homes Fit For Heroes 4:02
Spock 3:45
Love In The Rain 4:01
Revelations 3:12
Hotel Room 4:25
Last Electioneer 2:00
Out Demons Out 9:09

Tracklist CD:Harmonie Bonn, Germany, March 24th 2006
Evening Over Rooftops 6:31
Anthem 5:10
Speak Down The Wires 4:06
The Moth 2:57
Why Can't Somebody Love Me 4:36
Refugee 4:31
Momma's Reward 4:21
American Boy Soldier 6:12
Homes Fit For Heroes 4:02
Spock 3:45
Love In The Rain 4:01
Revelations 3:12
Hotel Room 4:25
Last Electioneer 2:00
Out Demons Out 9:09
Bonustracks:
16.   Caught In The Light 5:16
17.   Southfield Boys 4:55
CD complete: 79:15