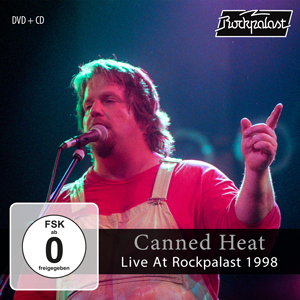 Canned Heat – Live At Rockpalast 1998
The story of Canned Heat is one of imperishable music, of zeitgeist-capturing hit singles and albums and of glorious performances at epochal events like the 1967 Monterey Pop Festival and the 1969 Woodstock Festival and at legendary venues like San Francisco's Fillmore Auditorium.
And most of all, perhaps, the story of Canned Heat is one of triumphant perseverance for through all their successes and disasters the band have retained their musical integrity and commitment to playing the blues and they remain admired and active to the present day.
By the time of the band's 1998 Rockpalast gig Fito de la Parra and Larry Taylor, who had formerly played bass but was now on guitar, had been joined by singer-slide guitarist Robert Lucas and bassist Greg Kage.
During their performance the band play many of their most loved songs including "On The Road Again" on which de la Parra attempts to replicate Wilson"s extraordinary, spooky vocals while the band recreate something of the mesmerizing magic of the hit record.
De la Parra also channels his inner Alan Wilson on "Going Up The Country". "We're going to take you to Woodstock," he announces before the song, an irresistible invitation for those in the audience and indeed for those of us listening now, over twenty years later. New frontman Lucas, a powerful, declamatory vocalist, sings lead on "Let's Work Together" and also on songs like William Harris's "Bullfrog Blues", "Amphetamine Annie", a cautionary tale of excessive drug use originally recorded on 1968"s Boogie With Canned Heat (if only the band had heeded their own warning!) and his own songs "See These Tears" and "Iron Horse".
Throughout, Lucas's slide and Taylor's lead guitar are subtle and swinging and the whole band play with an utterly convincing blues feel.
Since then the band's personnel has continued to evolve (Lucas left in 2000, sadly dying from a drug overdose in 2008, aged forty six) and by now over fifty musicians have been Canned Heat members. But in 2019 Larry Taylor became another of the band's classic lineup to die, passing away, aged seventy seven, from cancer.
Fito de le Parra is thus Canned Heat's only survivor from the 60s but although the band have regularly been booked for events like The Flower Power Cruise and Woodstock reunions they transcend the era in which they made their name. As the Rockpalast gig proved in 1998 and every gig since has re-emphasised, Canned Heat have never been a mere nostalgia act. Instead they have always been a blues band of compelling potency whose mastery of the idiom has now been delighting audiences for over fifty eventful years – with no end yet in sight!
---
Tracklist CD / DVD:
Stranger 05:37
Bullfrog Blues 04:02
On The Road Again 05:10
Don't Know Where She Went (She Split) 04:04
See These Tears 05:35
Goin' Up The Country 03:52
Boogie Music 05:06
Til The Money Runs Out 04:22
Iron Horse 06:36
One Kind Favor 04:59
Let's Work Together 04:28
Woodstock Boogie 16:43
Amphetamine Annie 05:31
total CD: 76:05 min
total DVD: 76:05 min