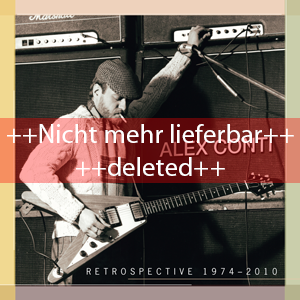 3CD

Date : 28.10.2010
Package : CD Digipack
Running Time CD 1 : 72:01
Running Time CD 2 : 74:53
Running Time CD 3 : 76.44
Alex Conti – Retrospective 1974-2010
M. i. G.-Music is proud to welcome one of the most striking and influential artists of the German rock scene:
ALEX CONTI!
His colorful history is documented with the elementary stations of his career on a stunning 3-CD set, which is not only a reflection of ALEX CONTI's career, but also documents four decades of German rock music.
Not only the highlights of Atlantis, Lake, Salt III, Continued, Elephant, Rosebud, Electric Ballroom or the Hamburg Blues Band are gathered here, also previously unreleased and unheard studio and live recordings make the "Retrospective 1974 – 2010" a breathtaking and unique collection of 42 tracks!!
__________________________________________________________________________________________
Alex Conti was born on 02.04.1952 in Berlin. Father and mother were opera singers and stuck the boy into the Canisius-College – an elite school runned by Jesuits.
1969 CONTI left school to join the legendary Berlin blues band Curly Curve.
1972/73 CONTI went to England and played there in the London band Fever (formerly Sam Apple Pie).
1974 CONTI got the offer from Germany's No. 1 Rock-Act Atlantis. Dieter Dirks immediately recognized CONTI's potential as a guitarist – but also as a songwriter – this leads into the production of "Ooh Baby" which was released in 1974.
1975 the legendary double-album "Atlantis Live" is released. This year also is CONTI's first U.S. experience: Atlantis were opening for Aerosmith, which just celebrated their breakthrough with "Walk This Way'". Due to the high acceptance among musicians, press and fans, the U.S. presence was extended – Atlantis, along with Lynyrd Skynyrd played 30 concerts. Lynyrd Skynyrd just had their worldwide hit "Sweet Home Alabama". It is one of the many memorably stories that revolve around CONTI, that Ronny van Zant offered CONTI to take the place of guitarist Ed King, who had to leave the band due to health reasons.
These two tours were helpful for CONTI to make contacts with musicians and managements which would become helpful later. CONTI demonstrated his versatility when in the summer of 1975 he founded Doll the German rock and roll legend Rudolf Rock & Die Schocker with Uli Salm and Erich. In autumn of the same year, CONTI joined Germany's new top formation Lake.
In 1976 the album "Lake" was published and the band joined Wishbone Ash on a European tour.
1977-79 the albums "Lake 2" and "Lake 3" were released, USA-Tours and several top-20 billboard placements followed. Interesting episodes from this period, on one hand, is the fact that an interview on a radio show in Atlanta had prevented CONTI to take the plane that crashed with Lynyrd Skynyrd, on the other hand various acquaintances on the Caribou Ranch by the then manager James W. Guercio with musicians with from The Eagles, Beach Boys, Chicago, Blood, Sweat & Tears, Crosby, Stills 'n' Nash and, and … and cooperation with the Led Zeppelin-stage crew – probably the best stage crew of all time. Another highlight of this period: CONTI's cooperation with Carl Wilson of the Beach Boys. Not to mention the great festivals, where CONTI played not only with the likes of Bob Dylan, Eric Clapton, Santana and Genesis, but also had the opportunity to get to know them personally. Another highlight of his career is CONTI's participation in the CBS-World Convention 1978: Lake played with Barbra Streisand, Jeff Beck and CONTI also had personal contacts with the unforgettable Steve McQueen.
1980 "Lake 4" ("'Ouch") is released and Lake disbanded… CONTI, who has since mutated into a multi druggist, took a break to get away from heroin and alcohol.
In 1981, he is back and in 1982 his first solo album "Conti" was released, followed by several tours with his own bands.
In 1984 his second solo album "Continued" was released..
1985 CONTI joins Hamburg group Elephant ("Just Tonight").
1986/87 he played with Herwig Mitteregger on the albums "Immer mehr" and "Jedesmal" and joined him on various tours.
1989 CONTI founded with his colleagues Lutz F. Petersen the heavy rock trio Rosebud and released three albums until 1994: "Rosebud, "San Simeon" and "Keep Smiling". During this time, CONTI also is part of the Hamburg Blues Band: With them, he published four albums, played over 1000 concerts and remains true to the band for 15 years.
1996 With Inga Rumpf CONTI founded Rockship, followed 1997 by the CD "Rough Enough" and many concerts and festivals up to 1999 – but also a new solo project: "Electric Ballroom".
2000: Recording in Mallorca: CONTI worked with Frank Diez, Colin Hodginson, Wolfgang N. Dalheimer and the unforgettable Tony Hicks on the album "Berlin Blues", which was not published until years later.
2001 CONTI and Hamburg Blues Band worked with Mike Harrison (Spooky Tooth) on the album "Hamburg Blues Band meets Mike Harrison" published in 2002.
2003 Revival of Lake by ALEX CONTI.
2004 First tour of the new Lake.
2005 Lake comeback album "The Blast Of Silence" and a concert tour.
2006 Large tour and work on the "Lake Live"-DVD. In autumn studio work with Richie Arndt, Gregory Hilden and Henrik Freischlader for "Rorymania" production
2007: CD "Rorymania" and big tour. Also DVD "Lake Live" and tour with Lake.
2008 Finally release of "Berlin Blues". Due to popular demand: Second tour of "Rorymania".
2009 CONTI took a break to work on his long-cherished dream of an instrumental album. He calls it "Shetar" and was published in 2010
2010: Lake were on tour with Lynyrd Skynyrd – this time in Germany.
---
Player
TRACKLISTING:
CD 1:      
1. Atlantis: Ooh Baby
2. Atlantis: Son Of A Bitch's Son
3. Atlantis: Godfather
4. Atlantis: Rock Me Baby
5. Rudolf Rock & die Schocker: Teddybär
6. Lake: Down The Middle
7. Lake: Lost By The Wayside
8. Lake: Chasing Colours
9. Lake: Red Lake
10. Salt III: Dreams
11. Salt III: Fire
12. Salt III: Talk To Me, Baby
13. Conti: Nights On The Highway
14. Conti: Waterprotected
15. Conti: You're A Monster
16. Conti: Take Me As I Am
CD 2:
17. Continued: Under Arrest
18. Continued: Better Things To Do
19. Continued: The Way It's Gonna Be
20. Elephant: Sayonara
21. Elephant: Harvest For The World
22. Elephant: You Drive Me Crazy
23. Elephant: Addicted To Love
24. Rosebud: My Baby – Your Baby
25. Rosebud: Dynamite
26. Rosebud: White Noise Boogie
27. Rosebud: Keep Smiling
28. Electric Ballroom: You've Seen It All
29. Electric Ballroom: Over Under Sideways Down
30. Electric Ballroom: Wanna Be Your Mate
31. Rockship: Down To The Wire
32. Rockship: From The Sky
CD 3:
33. Rockship: Main Attraction
34. Hamburg Blues Band: Love Me Or Leave Me
35. Hamburg Blues Band: Make My Day
36. Hamburg Blues Band: Woza N Azu
37. Berlin Blues: Till Your Loving Makes Me Blue
38. Rorymania: Too Much Alcohol
39. Kaleidoskopia: Art Is
40. Kaleidoskopia: The Sea
41. Kaleidoskopia: Spectral Voyager
42. Shetar: Bei mir bist du schön