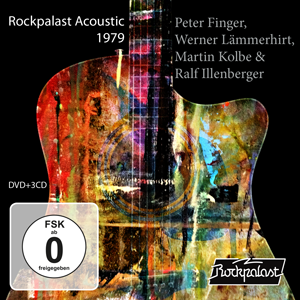 Peter Finger, Werner Laemmerhirt, Martin Kolbe & Ralf Illenberger – Rockpalast Acoustic 1979
Some people believe that Eric Clapton introduced the acoustic guitar to pop and rock music with his 'Unplugged' album in 1992. Others think it was MTV who started their legendary concert series of the same name in 1989. The truth is the acoustic guitar, beyond baroque and classical music, has always been there. But in the 1960s the instrument gained an enormous boost in popularity as the instrument of choice favoured by folk legends such as Pete Seeger, Woody Guthrie, Joan Baez and Bob Dylan to accompany their songs.
The decade would see more and more pure instrumentalists placing the acoustic guitar completely at the centre of their music. When the makers of the WDR Rockpalast decided to give this a forum in 1979, they could rely on four great musicians from their own country Germany who had made fingerstyle guitar enormously popular.
And so, with Peter Finger, Werner Lämmerhirt and the duo Kolbe & Illenberger, the Rockpalast producers invited the entire German spearhead of the finger-picking fraternity to their Cologne-based studio from 29th. August to 3rd. September 1979. Now these three masterly performances are being released together in a CD/DVD box set, carefully edited acoustically by Hans-Joerg Maucksch of Pauler Acoustic and liner notes written by Lothar Trampert. A pure listening and viewing pleasure.
---
CD1 / DVD:
Peter Finger - live @ WDR Studio L, Cologne / Germany, 29th August 1979:
Mississippi Blues 03:39
Erlkönig 02:54
Hope and memory 03:54
Der Zauberlehrling 09:40
Wishbone Ash 05:49
Elfentanz 04:09
CD1 Total: 30:05 min
CD2 / DVD:
Werner Lämmerhirt - live @ WDR Studio L. Cologne / Germany, 31st August 1979
Ovation 04:13
Wintertime has come 05:32
Rainy day in Amsterdam 04:40
To live by the river 05:20
Classical gas 04:53
Robbien 06:32
Fly me to the moon 04:53
Kite flight 03:44
Yesterday 04:11
CD2 Total: 43:58 min
CD3 /DVD:
Martin Kolbe / Ralf Illenberger - live @ WDR Studio L. Cologne / Germany, 3rd September 1979
Free man in 't harde 03:39
G'schteinigt 06:44
Sommerabend 03:48
The sycophantic typewriter 02:21
Break 04:54
Emotions 06:22
Ball in play 06:25
Music 04:27
Waves 08:02
CD3 Total: 46:42 min
DVD Total: ca. 125:00 min