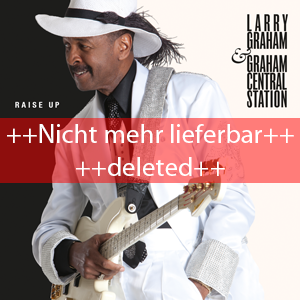 Larry Graham & Graham Central Station – Raise Up
Bassist Larry Graham – the architect of the slap-and-pluck bass technique that defined the funk sound of the '60s and '70s and continues to inspire bassists across virtually every genre to this day – may specialize in the low end of the sonic spectrum, but he's just as ready to take his music to unprecedented heights. He's been doing it for more than four decades – first as the rock-solid foundation for a string of enduring and iconic hits by Sly and the Family Stone, and later as the head of his own powerhouse unit, Graham Central Station.
After a 13-year hiatus, Graham Central Station makes its triumphant return with Raise Up, set for release on Moosicus Records on September 28, 2012. Raise Up includes new versions of three classic GCS tracks, along with ten new songs for a new generation of fans. The album features guest appearances by Prince – a longtime collaborator with Graham and GCS since the late 1990s – on three songs as well as songwriter/guitarist/producer Raphael Saadiq. Along with Prince and Saadiq, Graham has assembled a high-caliber lineup of musicians for the 21st century edition of Graham Central Station: guitarist William Rabb, keyboardists David Council and Jimmy McKinney, drummer Brian Braziel and vocalist Ashling Cole.
Raise Up does just what the title demands, with a series of high-energy bursts that force listeners out of their chairs and into action. The combination of thumping backbeat, no-hold-barred orchestrations and upbeat, optimistic messages is designed to not just make people move, but make them move in a positive direction. Raise Up is a statement of defiance against the many obstacles and challenges that so often slow us down or keep us from realizing our fullest potential.
---
Tracklisting:
GCS Drumline 01:26
Throw-N-Down the Funk 06:44
It's Alright (The New Master) 03:34
Raise Up (Featuring Prince) 05:35
Shoulda Coulda Woulda (Featuring Prince) 04:47
Welcome 2 Our World 01:01
It Ain't No Fun to Me (The New Master) 06:09
Higher Ground 04:55
No Way 07:05
Hold You Close 05:07
Movin' (Featuring Prince) 04:57
Now Do U Wanta Dance (The New Master) 05:35
One Day (Featuring Raphael Saadiq) 06:44
CD total: 63:39
Tracklisting Vinyl:
Side A
GCS Drumline 1:26
Throw-N-Down The Funk 6:44
It's Alright (the new master) 3:34
Raise Up (featuring Prince) 5:35
Side B
Shoulda Coulda Woulda (featuring Prince) 4:47
Welcome 2 Our World 1:01
It Ain't No Fun To Me (the new master) 6:09
Higher Ground 4:55
Side C
No Way 7:05
Hold you Close 5:07
Movin' (featuring Prince) 4:57
Side D
Now Do U Wanta Dance (the new master) 5:35
One Day (featuring Raphael Saadiq) 6:44

Videos: