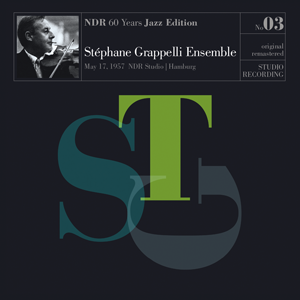 Stéphane Grappelli Ensemble – NDR 60 Years Jazz Edition Vol. 3 – Studio Recording 17.05.1957
Up to the late 1950s Grappelli was still working on perfecting his instrumental skills. While his solo choruses on the violin with the Quintette du Hot Club de France mainly involved intensifying ornamentations, tension-escalating vibrati, glissandi and tremoli, short fill-ups and improvised melodic phrases.
Stéphane Grappelli's visit to Studio 1 at the Norddeutscher Rundfunk in Hamburg in 1957 was a stroke of luck. Because on this day he had for the first time the complete repertoire of forms of expression on the violin which made him the style-forming jazz musician who earned the admiration even of instrumentalists in other genres such as the great classical violinist Yehudi Menuhin. At the same time, his tone and phrasing still had the vitality and virility of his younger years with the Quintette du Hot de France in the 1930s. And even more: In 1957 he was able to build a bridge with his violin between the swinging grandezza of the US jazz musicians and the great tradition of European music.
A major factor in making the recording session in Studio 1 of the NDR a field of experimentation for Grappelli was his rhythm group. This included his twenty-years-younger compatriot, the pianist Maurice Vander, and the two Germans Hans Last on the contra bass (yes, you've read it correctly: years later "Hans" was to become "James" Last) and Rolf Ahrens on percussion. With delicate harmony and colourful melody the  three musicians cleared the ground for their leader to experiment with his violin.
---
Tracklisting:
Autumn In New York 04:31
Jeepers Creepers 02:29
These Foolish things 04:27
She´s Funny that Way 03:35
Nuages / Swing 03:47
It Might As Well Be Spring 05:13
Hambourg Souvenir 03:08
Vours Qui Passez Sans Me Voir 02:56
Lady Be Good 03:50
A Flower Ia A Love - Some Thing 04:09
I Can´t Belive That You´re In Love With Me 03:03
Manoir De Mes Reves 03:25
How About You? 03:10
The Lady Is A Tramp 03:30
Louis Blues 05:11
A Girl In Calico 02:59
I´ll Remember April 02:59
Blue Moon 03:02
How High The Moon 03:57
Pennies From Heaven 02:48
Total:     70:09
---
Tracklist Vinyl

Side A
Autumn In New York 04:31
Jeepers Creepers 02:29
These Foolish things 04:27
She´s Funny that Way 03:35
Nuages / Swing 03:47
Side B
It Might As Well Be Spring 05:13
Hambourg Souvenir 03:08
Vours Qui Passez Sans Me Voir 02:56
Lady Be Good 03:50
A Flower Ia A Love - Some Thing 04:09
Side C
I Can´t Belive That You´re In Love With Me 03:03
Manoir De Mes Reves 03:25
How About You? 03:10
The Lady Is A Tramp 03:30
Louis Blues 05:11
Side D
A Girl In Calico 02:59
I´ll Remember April 02:59
Blue Moon 03:02
How High The Moon 03:57
Pennies From Heaven 02:48
Total: 70:09