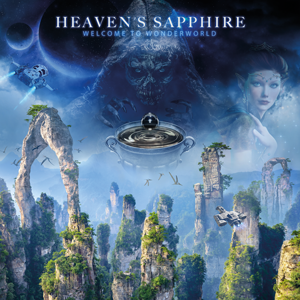 Heaven's Sapphire – Welcome To Wonderworld
Movie Rock – a new genre is being defined.
The two composers, Sven Bergmann & Oliver Bartkowski, have created a wonderful symbiosis of rock and pop that is capable to set new standards with its classical and even jazzy elements as with its excursions into the realm of musicals. Fans of film scores are being well served as well as the rock fan that is used to hearing it rumble.
Bergmann and Bartkowski were already able to enthral their audience with "The Movie Trip Show". They also wrote the music for the internationally awarded euro western  "Bullet Vain – Durch seine Venen
fließt Blei" and
---
Heaven's Sapphire - Sinister Minister (Live @ Riff, Bochum 2017)
---
Tracklisting CD:
The Wonderworld March 01:56
Flight Into Space 04:30
We Are The World...We Are The People 03:31
Million Miles From Home 04:26
Song Of The Stars 03:42
Lights Out 03:41
Sinister Minister 04:40
Ready To Fight 05:16
Lady Starlight 03:29
I Can See The Future 03:05
Don't Look Back 03:23
The Wonderworld March (Reprise) 00:57
Bonustrack:
Don't Talk T Strangers 04:06
Total: 46:45
Tracklisting Vinyl:
Side A:
The Wonderworld March 01:56
Flight Into Space 04:30
We Are The World...We Are The People 03:31
Million Miles From Home 04:26
Song Of The Stars 03:42
Lights Out 03:41
Side B:
Sinister Minister 04:40
Ready To Fight 05:16
Lady Starlight 03:29
I Can See The Future 03:05
Don't Look Back 03:23
The Wonderworld March (Reprise) 00:57
Total: 41:39
---