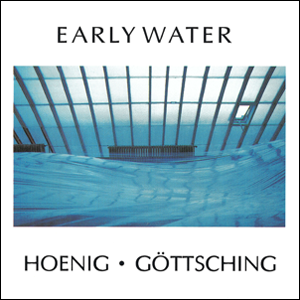 Michael Hoenig & Manuel Göttsching – Early Water
In 1976 Michael Hoenig had a brief collaboration with Ash Ra Tempel's Manuel Göttsching in Berlin; A 48-minute recording of one of the sessions, which was released in 1995 under the title "Early Water" on Bernd Kistenmacher's Musique Intemporelle label.
The album was deleted and unavailable for a long time. Now, finally, a re-issue of "Early Water" will be available again.
Michael Hoenig still remembers:
"While I had been working on the "Departure From The Northern Wasteland" album, Manuel Göttsching had asked me if I would team up with him for some concerts in France, since his group had just gone through one of its hibernation periods. We rehearsed in my place for three or four weeks. One evening we got a call regarding some missing guarantee, which ultimately led to the decision to cancel the tour. Just for fun, we played one of the planned sets for a last time. Even though I do not recall pressing a record button, somebody recently dug up a Revox tape of that very set. After performing some digital sonic archaeology on it, it was just released under the very appropriate title Early Water."
And Manuel Göttsching adds:
"Unfortunately, some of the concert dates were not confirmed in time and we had to cancel the complete tour just on the day before we wanted to leave for France. On that evening, nevertheless, we recorded our last rehearsal "just in case". It turned out as a flowing harmonic piece, reflecting much of the optimistic air of 1976. Michael made his 'departure' to Los Angeles in the early 1980ies. When we met again in November 1994 I proposed to release this old track of ours. Michael took the original tape to Los Angeles, lovingly restored it and – well, here is it again!"
---
Tracklist CD:
Early Water 48:26
Total: 48:26 min
Tracklist LP:
Side A:
Early Water (Part 1) 24:35
Side B:
Early Water (Part 2) 24:36
Total:   49:11 min