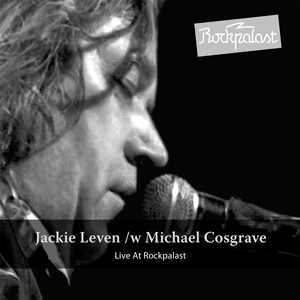 Jackie Leven /w Michael Cosgrave – Live At Rockpalast
JACKIE LEVEN began his career in the band Doll By Doll, and he is active as a solo artist since 1994.
His melancholy, biographical songs and his ironic humor, which he presents in concert with terrific stories, have brought him a steadily growing fan community
The Rockpalast concert was recorded in 2004 in the "Harmonie" in Bonn, and contains not only the highlights of his album "Shining Brother Shining Sister" but also the first JACKIE LEVEN-hit "Call Mother A Lonely Field".
JACKIE LEVEN's comment to the concert:
"This was my first visit to Bonn, and I was with my two favourite musicians, friends and companions – Michael Cosgrave and Kevin Foster. Over the years I've come to love Bonn – I like all the crazy people drinking in the square as I walk from my hotel to the Rhine. I always go down to the Rhine to have a long peaceful think about things. It's a healing river and the long slow bend has mystery.
Once, walking from my hotel, I saw a dead cat by the side of the path – when I came back, one of the crazy alcoholic women was holding it and crying. I never take photographs – there are enough photos in the world already, but this woman and the cat would have been a great portrait of sadness.
I love "Harmonie" – it's real professional, the sound is good, everybody is very friendly, the food is good, and the backstage room is a room you feel good to be in. You cannot say these things about everywhere we play! This was a good concert – we were playing well, I was singing well, and although I have no personal memory of the performance (!) I can see that I was happy to be there and that the audience was happy too. We all must live for the good times – the bad times are never far away…"
---
Player
Tracklist:
1. A Little Voice In Spain
2. (The Butterfly Story)
3. Classic Northern Diversions
4. Live Or Die
5. Poortoun
6. (Jackie's Bad Depression – A Funny Story)
7. My Philosophy
8. (Jackie Talks About Kiel And His Mother
9. Call Mother A Lonely Field
10. (Jackie Has A Moment Of Silence)
11. Empty In Soho Square
12. (Jackie Talks About Norwegian Prisoners)
13. Exit Wound