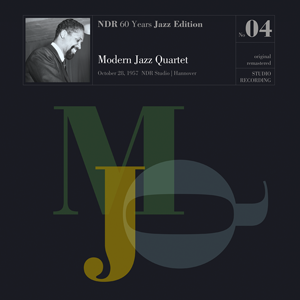 Modern Jazz Quartett – NDR 60 Years Jazz Edition Vol. 4 – Studio Recording 28.10.1957
It was on the afternoon of the 28th of October 1957 in Hanover. A special feature was that this production in the studio of the NDR-Landesfunkhaus was a repeat of a section of the concert that MJQ had given earlier in the sold-out Beethoven Hall in Hanover.
The very first piece is a perfect example of Lewis' concept of "integration". "Vendôme", one of the early compositions for the MJQ of the classically trained pianist born in 1920, is one of those "jazz fugues" for which the quartet was already famous and celebrated in Europe. Three theme sections composed in the style of Baroque fugues alternate with three improvised solo episodes on vibraphone and piano – plus a coda at the end that further intensifies the special atmosphere of the six parts. The formal restrictions, however, not only provide the impetus for the creative process of the soloists. Rather, Lewis' "jazz fugue" gives the MJQ musicians the possibility of leaving behind the narrow corset of theme-solo-solo-theme which was a typical feature of jazz at the time, and to play out their refined swing in a form reminiscent of European art music.
From a present day point of view, this somewhat different studio session with the Modern Jazz Quartet is a special opportunity to gain a new perspective on the contribution of this quartet to jazz history. Because, unlike the concert recordings from this European tour (for example in Donaueschingen shortly before the studio date in Hanover or the Gürzenich in Cologne on the 9th of November 1957), these approximately 30 minutes make one thing clear: how well prepared and professional the four MJQ musicians were in what was not an everyday task for them, to reconstruct in the isolation of the sound studio one of their concerts (without an audience) – including Lewis's explanatory commentary. And also how well they were able to work with the technical crew of the Norddeutscher Rundfunk – always at eye level, without airs and graces.
---
Tracklisting:
Announcement 1. 00:11
Vendome 03:24
Announcement 2. 00:53
Venice 04:40
Announcement 3. 00:53
All The Things You Are 05:10
Announcement 4. 00:21
Bluesology 05:11
Announcement 5. 00:18
Autumn Medley 05:13
Announcement 6. 00:35
The Golden Striker 04:08
CD total: 30:57
Tracklisting Vinyl
Side A:
Announcement 1. 00:11
Vendome 3.24
Announcement 2. 00:53
Venice 04:40
Announcement 3. 00:53
All The Things You Are 05:10
Side B:
Announcement 4. 00:21
Bluesology 05:11
Announcement 5. 00:18
Autumn Medley 05:13
Autumn In New York
Autumn Nocturne
Announcement 6. 00:35
The Golden Striker 04:08