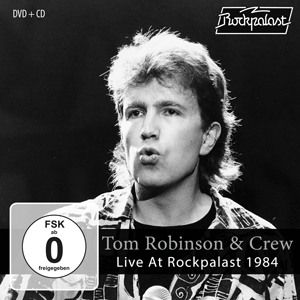 Tom Robinson & Crew – Live At Rockpalast 1984
In 1973, Tom Robinson moved from Cambridge to London and joined the acoustic trio Café Society. Their debut-album was produced by the Kinks' Dave and Ray Davies and released in 1975 on their own Konk label. Robinson left Cafe Society in 1976, started gigging in London and founded a new band with his old friend, guitarist Danny Kustow, amidst the London Punk Rock scene – The Tom Robinson Band. They signed to EMI, "2-4-6-8 Motorway" was their first single, released in late 1977, which got into the top 5 of the UK singles charts and stayed there for over a month. In early 1978, the Tom Robinson Band recorded their debut album "Power Of The Darkness", peaking at number 4 in the UK album charts. The title track was released as single and entered the charts as well. Their song "Glad To Be Gay" was banned by the BBC. The band split in 1980 after the release of their second album "TRB Two".
Tom Robinson, who supported Amnesty International, Rock Against racism and stood up for equal rights for gays, spent a couple of months in Germany and returned to the UK with three future singles: "War Baby", "Atmospherics" and "Back In The Old Country". These were eventually released on the album "Hope And Glory" in 1984, and the record company sent him out on tour to promote it. On 9th. November 1984 Tom Robinson & Crew performed at the Zeche in Bochum and the WDR Rockpalast was there…
---
Tracklist:
CD / DVD
Power In The Darkness 02:31
Bully For You 03:28
Atmospherics: Listen to the radio 04:28
Law And Order 03:17
Out In The Cold 04:02
Too Good To Be True 03:37
I Shall Be Released 04:49
Hope And Glory 04:47
Old Friend 04:41
Murder At The End Of The Day 06:24
Prison 04:48
War Baby 06:11
Back In The Old Country 03:35
2-4-6-8 Motorway 05:14
Cabin Boy 04:06
Never Gonna Fall In Love Again 05:34
Glad To Be Gay 03:41
Atmospherics: Listen to the radio (reprise) 04:12
Total: 79:25 min.