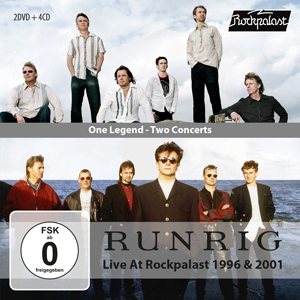 Runrig – One Legend Two Concerts (Live At Rockpalast 1996 & 2001)
The two concerts captured on this remarkable CD and DVD set are superb evocations of a band before and after major change.
Dusseldorf sees the most successful, major label Runrig lineup coming to the end of its run, with Donnie Munro making one of his last stands as lead vocalist and frontman, before leaving the band, ambitious to begin a political career as a Member of the UK Parliament. He stood as a Labour Party candidate for his native constituency of Ross, Skye and Inverness West but was defeated on two occasions.
By the time of the Cologne concert, Bruce Guthro had settled into his role as the new frontman of Runrig, made it his own and been warmly accepted by fans. 1997 saw both the ending of the 'old' Runrig and their departure from London-based label Chrysalis. But it also saw the 1997 referendum on a devolved parliament for Scotland and a vote for that assembly to be established in Edinburgh. New beginnings were everywhere, and Scotland was ready to embrace Bruce, and the 'new' Runrig he fronted. It did.
And so did the rest of Europe. Germany in particular had always welcomed Runrig's brand of powerhouse Celtic rock with open arms, and the winter tour in 2001, supporting the "Stamping Ground" album which saw Bruce fully integrated into the band, was a triumph.
So, in a different way, was that 1996 outing, also in the depths of winter. The power and sweetness of Donnie's vocals, and the sense of bearing witness to on-stage relationships forged decades previously in the dancehalls and marquees of the Highlands and Islands, is overwhelming and beguiling. Bringing the two concerts together in one package offers an irresistible opportunity to contrast and compare.
Runrig ended their career in style at the "Last Dance" concerts beneath the battlements of Stirling Castle in 2018. After 45 years, it was all over, at least in terms of live performance. The band have made a massive contribution to Scottish and European culture, and on the way have provided concertgoers with many joyous, moving experiences, two of which are captured here. Dusseldorf in 1996 and Cologne in 2001 saw two Runrigs, both performing brilliantly, and it is both instructive and moving watch these two bands which, are in the end, one. (Tom Morton)
One Legend – Two Concerts = RUNRIG!
---
LIMITED FAN BOX including the CD/DVD Set, T-Shirt size XL, Double 7 Inch Gatefold and lenticular card.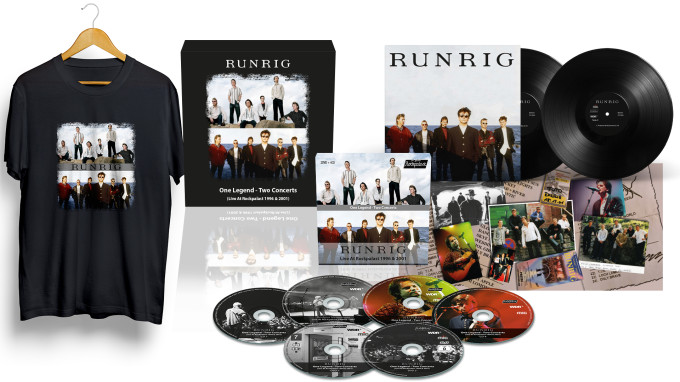 Tracklist:
CD 1 / DVD 1 - Philipshalle Düsseldorf 03.02.1996
Day In A Boat 02:41
Nothing But The Sun 08:07
City Of Lights 05:21
Rocket To The Moon 05:04
Road And The River 05:04
Medley: The Mighty Atlantic / Mara Theme 06:50
Ard 06:01
Edge Of TheWorld 05:09
Meadhan Oidhche Air An Acairseid 05:09
Thairis Air A' Ghleann 04:12
The Greatest Flame 04:12
The Dancing Floor 05:40
Total: 63:30
CD 2 / DVD 1 Philipshalle Düsseldorf 03.02.1996
Healer In Your Heart 03:17
Stepping Down The Glory Road 01:35
The Middleton Mouse 00:31
Skye 06:33
The Wedding 05:18
Siol Ghoraidh 06:22
Only The Brave 05:09
Alba 07:21
Flower Of The West 08:14
Loch Lomond 08:39
I'll Keep Coming Home 02:45
Total: 55:44
CD 3 / DVD 2 - Christmas Special 15. Dezember 2001 Köln
Intro: Danns An t-Sabhail 02:36
Running To The Light (excerpt) 01:56
Wall Of China / One Man 04:34
Saints Of The Soil 05:29
Book Of Golden Stories 04:56
A Dh'Innse Na Firinn 06:04
Protect And Survive 05:35
One Thing 05:49
Big Songs Of Hope And Cheer 05:17
Oran Ailean / Leaving Strathconon 05:25
The Engine Room 04:14
Every River 04:32
Pride Of The Summer (Beat The Drum) 03:58
An Sabhal Aig Neill 03:17
Total: 63:42
CD 4 / DVD 2 - Christmas Special 15. Dezember 2001 Köln
The Stamping Ground 05:47
Flower Of The West 08:02
The Message 05:01
Cnoc Na Feille 05:18
Maymorning 09:36
The Summer Walkers 04:09
Skye 07:20
Tureadh Iain Ruaidh 03:54
Loch Lomond 08:33
Silent Night 02:24
Total: 60:04
Video