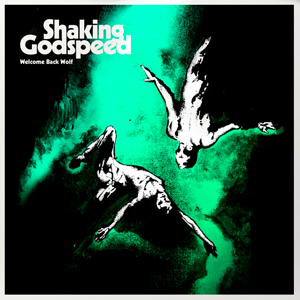 Shaking Godspeed – Welcome Back Wolf
Moments of great clarity; it might come across as your typical transcendental hippy adage, but pursuing them in today's rock music environment is actually by far not the easiest route to take. After all, hasn't every last drop of originality forcefully been squeezed out of the once so revolutionary sounds of guitar, bass and drums? With every authentic movement preceded by countless others, and nearly all of them later resurrected in their relative 'retro' waves? The possibility to take a deep breath and shape these sounds to one's own personal, fleeting thoughts appears to be more and more of a rarity, buried under the burden of rock history, bandwagons and daily refreshed iTunes charts.
For that to happen, you do need a true moment of clarity.
Welcome Back Wolf – Release in Oct. 2014
In Shaking Godspeed's last moment of great clarity, a steady body of new material emerged. "Maximal Music" as the band describes. The esthetic, ecstatic, eclectic, energetic and sometimes downright absurd qualities of the previous work are being surpassed in this new album by far. Recorded live in the solitary confinement of an abandoned clothing factory in Nijmegen, Holland, Welcome Back Wolf bears a never before heard confidence in Shaking Godspeeds own values and feelings. We can only guess what their next moment of great clarity will bring.
Wout Kemkens (vocals & guitar):
"I think the record will fit every mood. To me good songs are basically like human beings. Every man or woman has formed a wide range of emotions, characteristics and behaviourisms that make up who they are. So if you want to touch or move people, your work has to be as multi-dimensional, complex and simple as human nature. It's something that we strive for in every song."
Also available on LP!
---
Player
TRACKLISTING CD:
1. She's Young
2. Tombstone Talk
3. The Lighthouse
4. Welcome Back Wolf
5. Goodbye Poupon
6. Live On Planet Earth
7. Future Boogie
8. Commando
9. Paranoia Blues
10. Why Moan
11. Baby, You're So Strange
12. Asbestos Christos
TRACKLISTING LP:
SIDE A:
1. She's Young
2. Tombstone Talk
3. The Lighthouse
4. Welcome Back Wolf
5. Goodbye Poupon
6. Live On Planet Earth
SIDE B:
7. Future Boogie
8. Commando
9. Paranoia Blues
10. Why Moan
11. Baby, You're So Strange
12. Asbestos Christos
Video