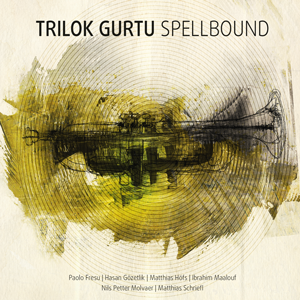 Trilok Gurtu – Spellbound
Two short snippets recorded live by and with Don Cherry bookend the album "Spellbound": a 33-second improvisation in a duo with Cherry on trumpet and Trilok Gurtu, who can be heard on the drum set especially converted and modified for his needs, forms the start of the new CD by the Indian percussionist, while a brief "Thank you, thank you very much" from Cherry for the applause of the audience closes the album.
With every track on "Spellbound" Trilok Gurtu has turned to the instrument that Cherry himself played: the trumpet. This brass instrument is practically a symbol for Gurtu's own musical vision. In its different versions, the trumpet has found a place in countless cultural circles around the world and has become an essential element of many different styles. The trumpet plays an important role in classical, symphonic music, just as in pop, world and, of course, jazz music.
With "Spellbound" Gurtu once again underlines the fact that jazz still forms the basis for his musical oeuvre. With his band he takes a surprising leap into the history of swing music in the USA and also plays pieces by style-forming trumpeters who have long been a part of the jazz canon: Dizzy Gillespie's Afro-Cuban classic "Manteca", or a tribute to the extraordinary fusion sound of Miles Davis from the 1970s, "Jack Johnson/Black Saint", as well as his "All Blues" from the masterpiece "Kind Of Blue" and, of course, Don Cherry's "Universal Mother" which, with its genre-crossing flow in the version by Gurtu, is almost like a further motto for "Spellbound". With the music on his new album the percussionist succeeds in something that nowadays is unusual and indeed rare: building a bridge between the continents and cultures. With "old" Europe as the geographical basis which, with its multi-layered cultural and musical history, has become Gurtu's second home.
---
Tracklisting:
1.    Improvisation: Live Don Cherry & Trilok Gurtu 00:33
2.    Manteca 04:36
3.    Jack Johnson / Black Satin 09:38
4.    Cuckoo 04:55
5.    Berchidda 05:33
6.    Like Popcorn 04:23
7.    Haunting 05:15
8.    Universal Mother 06:29
9.    Spellbound 04:32
10.  All Blues 06:41
11.   Cosmic Roundabout / Brown Rice 04:39
12.  Thank You By Don Cherry 00:15
Total: 57:29
---
Tracklisting Vinyl:
Side A
1. Improvisation: Live Don Cherry & Trilok Gurtu 00:33
2. Manteca 04:36
3. Jack Johnson/ Black Satin 09:38
Side B
4. Cuckoo 04:55
5. Berchidda 05:33
6. Like Popcorn 04:23
Side C
7. Haunting 05:15
8. Universal Mother 06:29
Side D
9.   Spellbound 04:32
10. All Blues 06:41
11.  Cosmic Roundabout/ Brown Rice 04:39
12. Thank You By Don Cherry 00:15
Total: 57:29
---
Video: