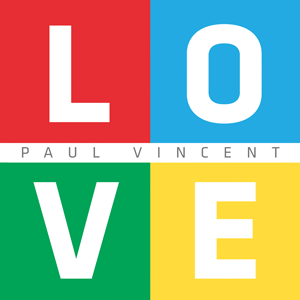 CD Boxset

Date : 20.02.2015
Package : CD Boxset
Running Time CD 1 : 77:34
Running Time CD 2 : 76:00
Running Time CD 3 : 79:55
Running Time CD 4 : 41:21
Paul Vincent – L.O.V.E.
On 20.02.2015 an extraordinary work in every respect will be released on MIG-Music. Paul Vincent is perhaps best known for his collaborations with artists such as Freddie Mercury, Meatloaf and Eric Burdon as well as German artists including Udo Lindenberg, Wolle Kriwanek, Peter Maffay, and Edo Zanki just to name a few.
In 2011 Paul Vincent was praised by the respective music press for his personal Beatles songbook.
His new masterpiece "L.O.V.E" is surprising in many ways. Not only are more than 70 songs included in 4 CDs- divided into the genres Rock (red -"L"-), Pop (blue -"O"-), Ballads, Blues 'n' Stuff (green -"V"-) and Golden Radio Days (yellow -"E"-)- absolutely impressive, but his own amazing songs are penned with a fresh quality and a production finesse. It is known that Paul Vincent masters his own instrument, the guitar, and is fulsomely praised for his own sound. The songs on the 4-CD boxset "L.O.V.E." convince especially through the vocal harmonies and the infinite variety of sparking melodies, bright arrangements and quality of production!
It cannot be argued that Paul must have fallen into a pot of potion The Beatles once touched. This statement should be viewed as an honest compliment, as this material is far from mere plagiarism.
Paul himself considered this extraordinary work a legacy and invested all his love and skills to deliver a statement as a songwriter, guitarist exceptional, arranger and producer.
---
Player
Tracklists:
CD 1 (L - red– Rock):
Universal Love 05:37
Peace On Earth 05:15
When Was The Last Time 05:20
Rainmaker 04:21
Love's A Thing That Money Can't Buy 04:45
Gone To Pieces 06:00
Can't Hide The Gypsy 05:16
One Man's Trash 03:42
Keep On Running 05:03
Lightning Never Strikes 05:06
All I Want Is Your Money 04:27
Barking At The Wrong Tree 04:20
If You Wanna Be With Me 04:31
Is This Love? 03:43
Sweet Lil' Angel 04:17
The magic Of The Moment 05:44
CD 2Total: 77:34
CD 2 (O – blue – Pop)
Shaftesbury Avenue 04:10
Hallelujah, Trouble's Over 05:11
Something To Believe In 03:29
Oh No, Not My Sweet Baby 04:08
Heather, The Weather Girl 04:35
Secret Rendezvous 03:53
And The World Keep Turning 04:21
Here We Go Again 04:44
Isabella, Where Did Our Love Go? 03:47
I Wanna Be With You 04:29
She's Not The One For You 03:57
Up And Down 04:13
She's My Pride And Joy 04:18
My Fair-Weather Friend 03:41
You're Not True 04:21
Action Speaks Louder Than Words 05:00
You've Got A Golden Heart 03:50
Call It Whatever You Want 03:44
CD 2 total: 76:00
CD 3 (V – green – Ballads)
Back On The road Of Life 03:36
Spread Your Wings 04:09
Dead And Gone 04:31
Have A little Faith In Me 04:10
Ain't It So? 06:04
Not In My Wildest Dreams 05:21
Here I Am Crying 04:01
Goodbye, Old Windy City 04:12
Count On Me 04:39
I Can't Sleep 05:10
The World We Live In 03:37
Daydreamin' 05:08
Run To Me 05:16
You Are So Far Away 04:10
What If I said 04:20
You Gave Me A New Life 03:19
Too Bad 03:58
Life Will Go On 04:07
CD 3 total: 79:55
CD 4 (E – yellow – Golden Radio Days)
At The Juke Joint 02:42
Intro – Facing The Music 1 01:21
There's A Tiger Inside 02:55
Come On, Let's Tango 02:48
S What Do You Say? 02:35
Eventually 03:59
Rich With No Regrets 02:35
Interlude – Facing The Music 2 00:29
Little Italy 00:46
Sing Cantare 02:12
Sweet Annabelle 02:50
Just A Fool In Love 02:21
Interlude – Radio BNC 00:14
Fabulous Tea From Britain 00:42
We Do As We Please 02:52
Sadie Maybe 03:25
Moulin Rouge 00:34
French Knickers & Outro 03:00
You Are The One 02:54
CD 4 total: 41:21
Videos: