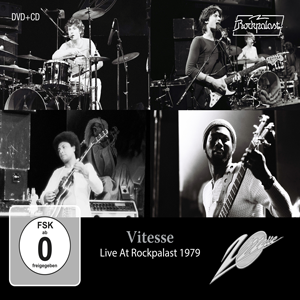 Vitesse – Live At Rockpalast 1979
Vitesse, that was in 1979, when this Rockpalast was recorded, band founder, drummer and singer Herman van Boeyen, on guitar and vocals Jan van der Meij, co-guitarist Rudy de Queljoe and bassist Torroe Leerdam. "This was probably the most successful line-up of Vitesse", Jan van der Meij remembers today. Even though the band received even more attention a little later, in the early 1980s, especially in Germany, when a certain Carl Carlton (Songdogs, for years sideman of Udo Lindenberg and Peter Maffay) came on board as successor of van der Meij. The band name Vitesse was also responsible for countless changes in the band's staff. Jan: "I was member number 14, and the band was just one year old!" Vitesse was founded in Amsterdam in 1975, and one of its first members at that time was Herman Brood.
But in the WDR television studio L in Cologne the chemistry was still right between Boeyen and van der Meij, they shared the lead vocals, with the guitarist mainly responsible for the higher ranges. A groovy mixture of rock, pop, new wave with jazz and latin touches tuned the quartet in the then 24 played songs from the until then three released albums "Vitesse" (1975), "Rendez-vous" (1976) and "Out In The Country" (1978).
"The release of 'Live At Rockpalast' comes at just the right time, because in the Netherlands, as in Germany, you can see a new interest in Vitesse, because many people want to get back to the acts of the 60s & 70s they grew up with," says van der Meij.
---
Tracklist CD/DVD:
First Train Home 03:02
Mumbo Jumbo 02:44
Screwed, Blewed and Tattooed 01:18
Dirty Business 02:24
Midnight Oil 03:54
Sweet Dreams 01:44
Game Of The Rice 02:24
We'll Do The Music Tonight 02:51
Last Boat (From Ambon) 02:00
Out In The Country 02:26
Bass Solo 06:57
Whole Lot Of Travellin' to do 04:17
Love Is The Answer 02:30
Springtime Confusion 02:53
You Can't Beat Me 03:42
Goin' Down 02:29
Larry 02:39
Call Me When Your Love Is Gone 03:12
Rollin' Through The Midnight Rain 03:05
Running and Hiding 02:15
Do You Wanna Dance 06:30
Rock 'n' Roll Band 02:11
Heartbreaker 02:18
Split 08:15
Total: 78:00