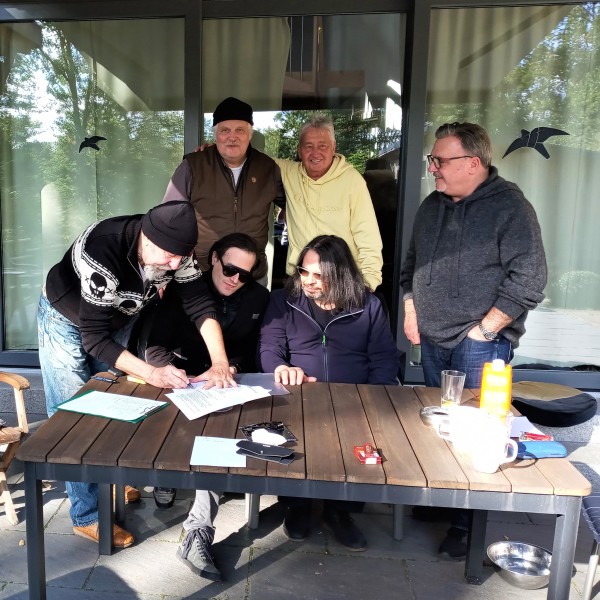 The four electronic musicians of S.A.W. and M.i.G. will collaborate in the future. Label and musicians met on a beautiful autumn day in Hitzacker at the river Elbe in Lower Saxony in Johannes Schmölling's Red Kite Studio to seal the collaboration and signing contracts. S.A.W. had finished the production of their new album "Hydragate" and handed over the final mastering to M.i.G..
S.A.W. are Johannes Schmölling (member of Tangerine Dream from 1979 – 1985), the keyboardist and sound designer Kurt Ader from Mannheim (sound productions for Dream Theater, Nightwish, Enigma and many more), the Berlin sound mixer, producer and composer Robert Waters (among others Loom with Johannes Schmölling and Jerome Froese) as well as Andreas Merz, Munich veteran of synthesizer music and member of Weltklang since 1973, who is also known for his extraordinary visuals. "Hydragate" will be released next year on 31st. March 2023 on CD, Vinyl and of course digitally.
The photo shows from left to right at the signing of the contract in Hitzacker:
Manfred Schütz (M.i.G.), Robert Waters (S.A.W.), Andreas Merz (S.A.W.) and Kurt Ader (S.A.W.). Back row from left: Johannes Schmölling (S.A.W.), Bernd Ramien (M.i.G.).