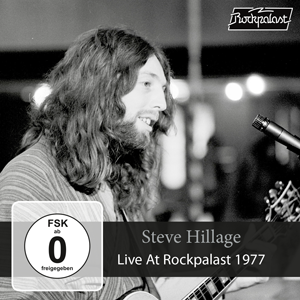 On 20th March 1977, Hillage gave a concert as part of the "L" tour at the Otto Hahn School in Bensberg (near Bergisch Gladbach), Germany, which was recorded by WDR and broadcast on German television with a slight time delay. Steve Hillage was on the road with a band that he had put together especially for the tour. Apart from his partner Miquette Giraudy, none of the musicians involved had worked on the studio albums. Jethro Tull's Clive Bunker sits on the drums, Camel bassist Colin Bass (nomen est omen) completes the rhythm section on bass, Phil Hodge and Basil Brooks (Gong, Zorch) support Miquette Giraudy on the keyboard instruments.
The live band breathes new life into the Hillage classics from "Fish Rising" and "L" with plenty of pressure and drive, growling basses, fulminant virtuoso percussion and sensational Minimoog solos. "Not Fade Away (Glid Forever)" at the end of the setlist gives a musical outlook on the album "Motivation Radio", which was not to be released until September 1977.
From December 18th this Rockpalast will be available as a re-release on CD/DVD in a digipak.
Steve Hillage - Live At Rockpalast (CD/DVD Boxset Trailer)