The administrative essentials are completed, and finally, it is all about the music again. The series of historic recordings from the archives of the NDR which have been released by Moosicus titled "NDR 60 Years Jazz Edition", will be continued as  "NDR Jazz Edition".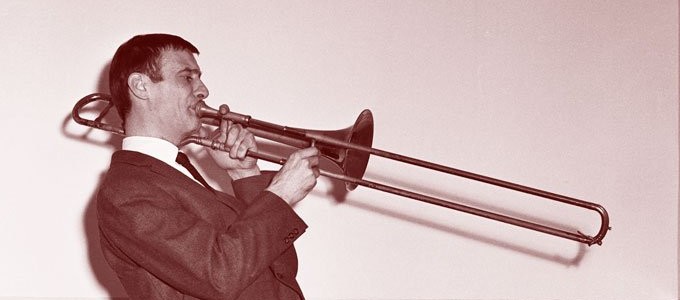 At first, "ALBERT MANGELSDORFF – THE JAZZ SEXTET" will be launched in this series. The recording from the Hamburg "Studio 10″, now named after Rolf Liebermann, dates back to April 12, 1957, and is a very early Mangelsdorff.
Former jazz editor Hans Gertberg had invited an ensemble to Hamburg which was on a tour through Europe. "The Jazz Sextet" the illustrious tour ensemble showing up at the studio had named itself. Besides trombonist ALBERT MANGELSDORFF shine two cool and west coast masters from the Stan Kenton Orchestra: Bob Cooper (clarinet, saxophone, oboe) and Bud Shank (tenor sax and flute), Attila Zoller (guitar), Karl Sanner (drums) as well as a just 21-year old Gary Peacock (bass). For Jerome Kern's "Yesterdays" the clarinetist Tony Scott joins in. With him, the recorded version promptly evolves  (and totally unusual for that time!) into a 20-minute trip around the world with a diversity of sounds and rhythms.
But that remains the exception. Apart from that a repertoire primarily consisting of standards by Shearing und Gershwin is being presented – but in a wonderful light and smart manner. The "light" feel may be due to the fact that the line-up went without a piano. "Who feels like putting a label on it may call it "west coast" – but primarily you can hear a self-conscious and extremely well-sorted ensemble," writes Michael Laages in his album liner notes
After that follows something contemporary, specifically a new album of the ATOM STRING QUARTET, the probably most exciting jazz band from Poland.
And then, we turn the clock back again, to the era of early jazz, ragtime and swing – presented by LEON REDBONE. The Canadian singer and guitarist is also new to Moosicus. Redbone's speciality apart from blues, swing and jazz is the popular music of Tin Pan Alley. Moosicus will release two concerts of Redbone from the year 1977. Both were recorded by Radio Bremen at that time and present an early phase of the artist who had only two albums out in 1977: "On The Track" and "Double Time".