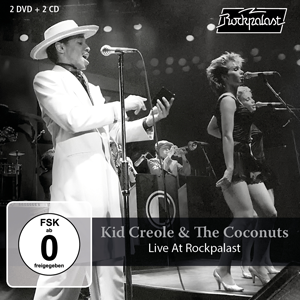 Kid Creole & The Coconuts – Live At Rockpalast 1982
Am Anfang stand die Vision. Die Vision eines multikulturellen Karnevals, der keine stilistischen Grenzen kennt, die Vision eines farbenfrohen Theaters mit den unterschiedlichsten Charakteren, überbordender Lebensfreude, Ironie, Humor und Raffinesse.
Gegründet wurden Kid Creole & The Coconuts  Anfang der 80er Jahre von August Darnell, der mit seinem Alter-Ego Kid Creole seine ganze Kreativität entfalten konnte: Zusammen mit seinem sidekick Andy Hernandez alias Coati Mundi und dem Damentrio The Coconuts, inszenierte er eine atemberaubende Melange aus Latin-Pop, Funk  und einem ebenso bunten wie überzeichneten, bombastischen Theater zwischen Kunst, bonbonfarbenem Kitsch, perfekter Choreographie und großer, selbstironischer augenzwinkernder Geste.
Bereits die ersten beiden Werke "Off The Coast Of Me" (1980) und "Fresh Fruit In Foreign Places" (1981) waren große Achtungserfolge – der große Durchbruch erfolgte aber mit dem Album  "Tropical Gangsters" im  Jahr 1982 mit Hits wie "Annie, I'm Not Your Daddy", "Stool Pigeon" oder "I'm A Wonderful Thing Baby".
Genau in dieser kreativen Hochzeit wurde auch das Rockpalast-Konzert aufgezeichnet. Die Nacht vom 16. zum 17. Oktober 1982  im Rahmen der 11. Rockpalast-Nacht in der Grugahalle in Essen wurde der Durchbruch in Europa.
Der Auftritt war ein solch großer Erfolg, dass die anschließende Tournee in viermal größere Hallen verlegt werden musste: Kid Creole & The Coconuts hatten sich über Nacht von einer gefeierten  Clubband zu einem der begehrtesten Live-Acts Europas verwandelt.
Die Vision war Wirklichkeit geworden.
Obwohl Kid Creole & The Coconuts vor allem auf der Bühne überzeugten und ihre Shows bis ins letzte Detail perfekt inszeniert und ausgefeilt waren, gab es bis jetzt kein offizielles Live-Album der Band.
Dies wird mit dem opulenten Boxset mit 2CDs und 2DVDs nachgeholt!
---
Player
Tracklisting DVD:
DVD1:
11. Rockpalast Nacht 16. – 17. Oktober 1982
01 Intro 3:29
02 Turkey Trot 4:21
03 Going Places 6:22
04 I'm A Wonderful Thing, Baby 6:16
05 Mr. Softee 3:09
06 Loving You Made A Fool Out Of Me 4:45
07 Ain't You Heard The News 5:37
08 Don't Take My Coconuts 2:57
09 Annie, I'm Not Your Daddy 8:30
10 No Fish Today 6:14
11 Que Pasa 8:17
12 Table Manners 12:22
13 Dear Addy 4:06
14 Stool Pigeon 11:11
15 Gina, Gina 8:00
16 Imitation 5:05
17 Maladie D'Amour 15:40
DVD2:
 Rockpalast Satory Säle Köln 3. Juni 1982
01 Intro 4:03
02 Adnaloy/ You Had No Intention 7:18
03 Gina, Gina 6:24
04 Mr. Softee 3:36
05 With A Girl Like Mimi 5:14
06 Turkey Trot 5:58
07 Que Pasa 8:11
08 Schweinerei 4:56
09 Anytime Is Party Time 3:26
10 Table Manners 14:45
11 I'm A Wonderful Thing, Baby 7:04
12 Ain't You Heard The News 5:15
13. In The Jungle 12:23
14. Don't Take My Coconuts 3:00
15 Stool Pigeon 11:27
16. Latin Music 3:15
17 I Am 11:39
Tracklisting 2CD:
CD 1:
01 Turkey Trot 4:21
02 Going Places 6:22
03 I'm A Wonderful Thing, Baby 6:16
04 Mr. Softee 3:09
05 Loving You Made A Foll Out Of Me 4:45
06 Ain't You Heard The News 5:37
07 Don't Take My Coconuts 2:57
08 Annie, I'm Not Your Daddy 7:50
09 No Fish Today 6:14
10 Que Pasa 8:09
CD 2:
01 Table Manners 12:22
02 Dear Addy 4:06
03 Stool Pigeon 7:58
04 Gina, Gina 8:00
05 Imitation 5:05
06 Maladie D'Amour 14:58
Video
Photos: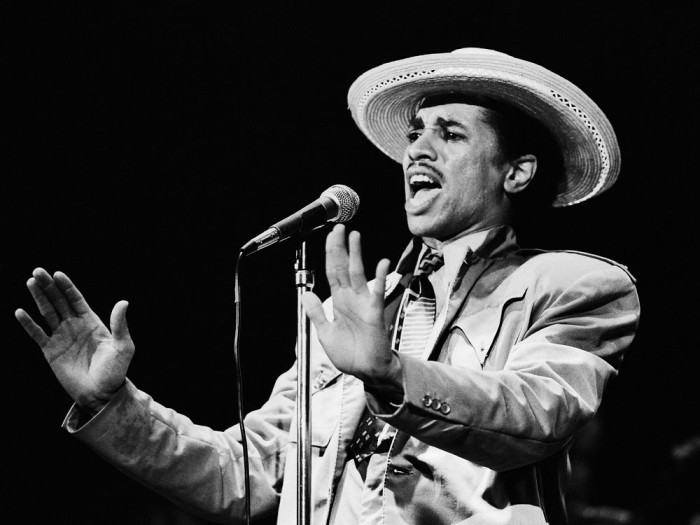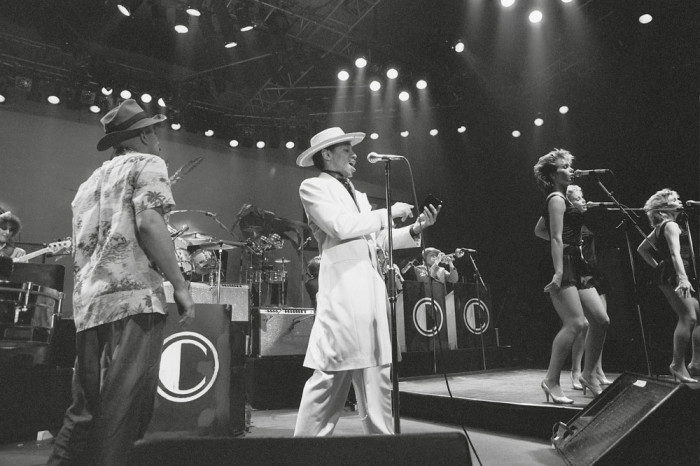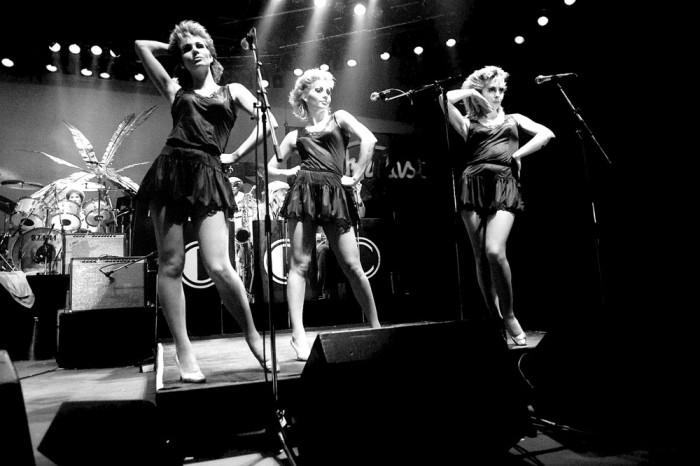 Photos by Manfred Becker