Chris Farlowe & The Thunderbirds – COLLECTORS PREMIUM "Out Of The Blue/Born Again"
Es war ein langer Weg vom "Johnny Burns Rhythm & Blues Quartet" bis zu den hier wiederveröffentlichten Alben. John Deighton, uns allen besser bekannt als "Chris Farlowe" war Sänger der "John Henry Skiffle Group", "Atomic Rooster", "Colosseum" und natürlich der "Thunderbirds".
1985 formierte Chris Farlowe die "Thunderbirds" neu. Das Album "Out Of The Blue" enstand unter der Leitung von Mike Vernon. Es wird von vielen als das beste Album von Chris Farlowe bezeichnet.
Als "Out Of The Blue" auf Mike Vernons Thunderbolt Record Label veröffentlicht wurde, gab es von den Kritikern durchweg positive Kommentare. Mike war sehr daran interessiert ein Nachfolgealbum zu produzieren, also ging man mit einigen der beteiligten Musiker erneut in die Chipping Norton Studios. Das Line Up wurde ergänzt durch Ian Gibbons, dem Keyboarder der "Kinks", Eric Claptons Bassist Dave Bronze, Phil Palmer an der Gitarre, Martin Winning am Saxophone, Charlie Morgan am Schlagzeug und Pete Wingfield an den Keyboards.
"Born Again" zeigt einmal mehr das riesige Talent dieses Ausnahme-Sängers. Ohne Zweifel ist Chris Farlowe einer der größten Sänger, die Großbritannien je hervorgebracht hat.
---
Tracklisting:
CD 1 "Out Of The Blue"
01.    I Ain't Supersticious 04:26
02.    Gambler's Blues 06:12
03.    Them That's Got It 02:52
04.    Ain't No Love In The Heart Of The City 03:59
05.    It's All Wrong 02:15
06.    Key To My Kingdom 03:19
07.    The Thrill Has Gone 04:24
08.    Watch Your Step 03:12
09.    All The Way Lover 04:17
10.    Shakey Ground 04:30
Bonustracks:
11.    Circles Round The Sun 03:06
12.    Medicated Goo 02:37
13.    Out Of Time (1991 re-recorded) 03:46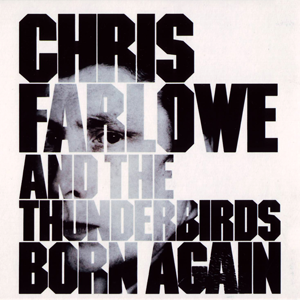 CD 2 "Born Again"
01.    Into The Night 03:09
02.    Starting All Over Again 04.23
03.    Lonely Eyes 04:15
04.    One Night Stand 04:28
05.    Ain't Got No Money 02:58
06.    I'm Yours 04:06
07.    I've Been Born Again 04:43
08.    Living Ain't Easy Without You 04:44
09.    Never Too Old 04:06
10.    End Of The Line 04:02
11.    I Stayed Away Too Long 03:45
Bonustracks:
12.    Man Of The World 02:58
13.    We Can Work It Out 03:41
14.    Jealous Kind (Live) 06:48
Total: 107:15
Videos