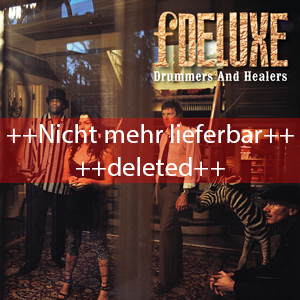 fDELUXE – Drummers & Healers

Nach dem erfolgreichen Album inklusive Single "Gaslight" erscheint nun die limited 12"-Vinyl "Drummers And Healers" plus Single aus diesem Album. Auf der CD Single finden sich zwei neue Remixes des Songs "Drummers And Healers" (Tchad Blake Mix, Extended Version) und eine exklusive Piano-Version der beeindruckenden Ballade "When You Go".
Zusätzlich finden sich der Album-Track "Over The Canyon", der zusammen mit "Drummers And Healers" wohl der Radio freundlichste Song des Albums ist. Mit mehr als 30 Minutn Spielzeit ist diese Single ein echter Schatz.
---
Player
Tracklist:
1. Drummers And Healers (album version) 3:48
(St.Paul Peterson, Susannah Melvoin, Doyle Bramhall II, Jason Peterson DeLaire)
2. Drummers And Healers (Tchad Blake Remix) 6:50
(St.Paul Peterson, Susannah Melvoin, Doyle Bramhall II, Jason Peterson DeLaire)
Remixed by Tchad Blake
3. Drummers And Healers (Amsterdam Remix) 5:53
(St.Paul Peterson, Susannah Melvoin, Doyle Bramhall II, Jason Peterson DeLaire)
Remixed by St.Paul for St.Paul Productions & JP DeLaire for Tender Girl Music
4. Drummers And Healers (extended version) 6:38
(St.Paul Peterson, Susannah Melvoin, Doyle Bramhall II, Jason Peterson DeLaire)
5. Over The Canyon (album version) 3:50
(St.Paul Peterson, Susannah Melvoin, Jason Peterson DeLaire)
6. When You Go (alternative piano mix) 3:18
(St.Paul Peterson, Susannah Melvoin)