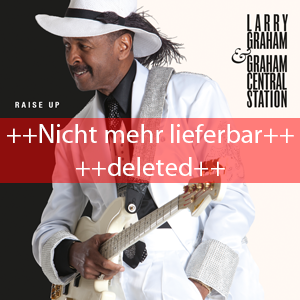 Larry Graham & Graham Central Station – Raise Up
Die erste Veröffentlichung des Funk-Bassisten seit 1999; feat. Prince und Raphael Saadiq.
High Energy ist angesagt! Larry Graham, der legendäre Erfinder der Slap-Basstechnik, die charakteristisch war für den Funk-Sound der 60er- und 70er-Jahre, präsentiert mit "Raise Up" ein Funk-Feuerwerk erster Güte. Graham war Mitglied der Band Sly And The Family Stone, bevor er seine eigene Karriere mit seiner Band Graham Central Station startete. Nach einer 13-jährigen Pause gibt es nun mit "Raise Up" eine triumphale Rückkehr. Der Weltstar Prince, ein Weggefährte und Freund von Larry Graham, ist auf drei Songs prominent vertreten. Neo-Soul-Star Raphael Saadiq ist ein weiterer Gast bei dieser Produktion, die mit dem Zuhörer das macht, was der Albumtitel aussagt: hochenergetischer Funk, groovende Backbeats und Bläsersätze, die einfach jeden zum Tanzen animieren! Dem Vinyl liegt das Album auf CD bei.
---
Tracklisting:
GCS Drumline 01:26
Throw-N-Down the Funk 06:44
It's Alright (The New Master) 03:34
Raise Up (Featuring Prince) 05:35
Shoulda Coulda Woulda (Featuring Prince) 04:47
Welcome 2 Our World 01:01
It Ain't No Fun to Me (The New Master) 06:09
Higher Ground 04:55
No Way 07:05
Hold You Close 05:07
Movin' (Featuring Prince) 04:57
Now Do U Wanta Dance (The New Master) 05:35
One Day (Featuring Raphael Saadiq) 06:44
CD total: 63:39
Tracklisting Vinyl:
Side A
GCS Drumline 1:26
Throw-N-Down The Funk 6:44
It's Alright (the new master) 3:34
Raise Up (featuring Prince) 5:35
Side B
Shoulda Coulda Woulda (featuring Prince) 4:47
Welcome 2 Our World 1:01
It Ain't No Fun To Me (the new master) 6:09
Higher Ground 4:55
Side C
No Way 7:05
Hold you Close 5:07
Movin' (featuring Prince) 4:57
Side D
Now Do U Wanta Dance (the new master) 5:35
One Day (featuring Raphael Saadiq) 6:44

Videos: