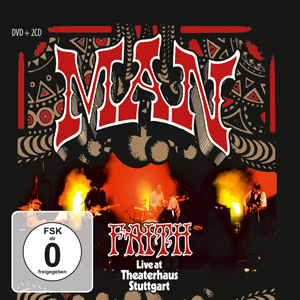 MAN – Faith – Live At Theaterhaus Stuttgart March 10th 2016
"Faith" wurde am 10. März 2016 im Theaterhaus Stuttgart aufgenommen und erscheint als 2-CD- und 1-DVD-Set bei MiG-music.
Als das Konzert aufgezeichnet wurde, war es als Release-Show des damals aktuellen Albums "Reanimated Memories" gedacht und enthält neben bekannteren Klassikern aus früheren Jahren, wie z. B. "The Storm" (aus dem sehr frühen 1969-er Album "2 Ozs. Of Plastic With A Hole In The Middle") oder "Many Are Called But Few Get Up" (aus "Maximum Darkness") auch einige Songs von diesem Longplayer. Das Artwork ist ebenfalls an das von "Reanimated Memories" angelehnt, unterbrochen von einigen Live- und Schnappschüssen der Band.
Wie Martin Ace im Text des Booklets anmerkt, verstarb Phil Ryan am 30. April 2016, noch bevor die DVD veröffentlicht werden konnte, so dass dies auch ein Zeugnis seiner Zeit mit der Band während mehrerer Perioden von Anfang 1970 bis 2016 ist.
MAN gingen laut Melody Maker als "bestgehütetes Geheimnis der britischen Rockszene" in die Geschichte ein, laut Musik Express als "eine der populärsten Underground-Bands überhaupt".
---
Tracklist:
CD 1 / DVD:
Many Are Called, But Few Get Up 12:57
No Solution 04:57
I Always Thought The Walrus Was Protected 03:17
Nothing Fails Like Success 05:23
The Ballad Of Billy Lee 06:11
We Know 05:11
In Time 10:08
Romain 06:23
CD 2 / DVD:
Conflict Of Interest (Do It) 09:22
The God Delusion 04:58
One More Ride On The Waltzers 05:25
Ordinary Man 06:13
Spunk Rock 12:02
C'mon 17:44
Bananas 12:05
Total:  ca. 124 Min