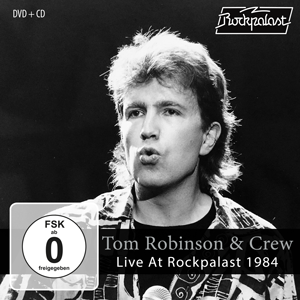 Tom Robinson & Crew – Live At Rockpalast 1984
Tom Robinson aus Cambridge startete1973 seine Karriere mit dem Folk-Trio Cafe Society. Ray und Dave Davies von den Kinks produzierten 1975 das gleichnamige Debut der Band. 1976 gründete Tom Robinson – beeinflusst durch die britische Punkszene – die Tom Robinson Band.
Robinson engagierte sich u. a. für Amnesty International und Rock Against Racism und setzte sich für die Gleichberechtigung von Homosexuellen ein. Seine Hymne "Glad To Be Gay" wurde von der BBC boykottiert und sorgte damit für umso größere Popularität. Das im Mai 1978 veröffentlichte Debutalbum "Power In The Darkness" erreichte Platz 4 der britischen Charts, Singleauskopplungen wie "2-4-6-8 Motorway" oder der Titelsong "Power In The Darkness" stürmten die Single-Hitparaden.
Ein Jahr später kam "TRB Two" auf den Markt, Tracks wie "Bully For You" oder "Alright All Night" wurden als Singles ausgekoppelt, das Quartett trennt sich jedoch 1980. Drei Jahre später gelang Tom Robinson mit den Singles "War Baby" und "Listen To The Radio" ein überraschendes Comeback. Auch das ein Jahr später veröffentlichte Album "Hope And Glory" verkaufte sich in England sehr gut. Robinsons Sound war poppiger geworden, klang eher nach New Wave als nach Punk. Tom Robinson & Crew gingen auf Tournee, um "Hope And Glory" zu promoten. Am 9. November 1984 traten sie in der Bochumer Zeche auf, der WDR war mit dem Rockpalast dabei.
---
Tracklist:
CD / DVD
Power In The Darkness 02:31
Bully For You 03:28
Atmospherics: Listen to the radio 04:28
Law And Order 03:17
Out In The Cold 04:02
Too Good To Be True 03:37
I Shall Be Released 04:49
Hope And Glory 04:47
Old Friend 04:41
Murder At The End Of The Day 06:24
Prison 04:48
War Baby 06:11
Back In The Old Country 03:35
2-4-6-8 Motorway 05:14
Cabin Boy 04:06
Never Gonna Fall In Love Again 05:34
Glad To Be Gay 03:41
Atmospherics: Listen to the radio (reprise) 04:12
Total: 79:25 min.