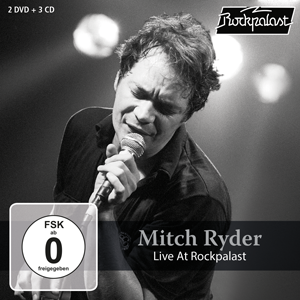 Mitch Ryder – Live At Rockpalast 1979 + 2004
Ihre größten Hits hatten MITCH RYDER & THE DETROIT WHEELS in der kurzen Zeit ihrer gemeinsamen Existenz (1965/1966) mit zwei Medleys: "Jenny Take A Ride", bestehend aus den Rock-Evergreens "C.C. Rider" und Little Richards "Jenny, Jenny" (1966) und "Devil With A Blue Dress On/Good Golly Miss Molly" (1966), eine Single, die sich gleich millionenfach verkaufte. Danach ging MITCH (geboren als William Levise Jr. am 26. Februar 1945 in Detroit) eigene Solowege und landete mit "Sock It To Me, Baby" (1967) gleich wieder einen Top 10 Hit.
Als ich ihn im Frühjahr 1979 in New York traf , hatte er eine mehrjährige Pause hinter sich und ein von der Kritik hoch gelobtes neues Album mit dem bezeichnenden Titel "How I Spent My Vacation"(1978) veröffentlicht. Wir zogen erst einmal durch das Pandämonium jener New Yorker Kneipen und Clubs, die ich ohne Mitch's Führung kaum gefunden hätte, und fanden heraus, dass wir beide "Fische" sind mit dem gleichen Wahlspruch: "Nur tote Fische schwimmen mit dem Strom".
Das Ergebnis war die Einladung zur Rockpalast-Eurovisions-Nacht in der Essener Grugahalle (06./07.10.1979). Eine denkwürdige Nacht, das "Famous Full Moon Concert" war gebucht. Wir hatten damals viel Zeit: Jede der drei Gruppen der Nacht – neben MITCH RYDER waren das SOUTHSIDE JOHNNY und NILS LOFGREN – hatte ihren eigenen Probentag.
Als letzte Band im Konzert mussten MITCH und seine Band am Mittwoch den Anfang machen. Lange Zeit bis zur Sendung am Samstag. Die Nächte verbrachten die Jungs im Wohnzimmer meiner Hotelsuite. Sie spielten "Mensch ärgere dich nicht" ("The Aggravation Game") und leerten dabei meine Minibar. MITCH baute die Aggression auf, die er als Künstler brauchte. Am Konzerttag war die Band – gewöhnt, irgendwo anzukommen, auf die Bühne zu gehen und danach gleich wieder abzureisen – jenseits von Tag und Traum. MITCH erschien in letzter Minute mit einer halbleeren Flasche Jack Daniels. Das volltrunkene Live-Interview mit dem Moderator ALAN BANGS ist Fernsehgeschichte. Als verantwortlicher Producer war ich nahe daran auszublenden. Was folgte, war aber ein bemerkenswertes Konzert: MITCH gab Alles und kehrte sein Innerstes nach außen. Die durch-dringenden Schreie dieses weißen SOUL-SCREECHERS jagten uns kalte Schauer über den Rücken und von "Ain't Nobody White Can Sing The Blues" bis "Soul Kitchen" erschütterte er uns. Dass er ein unbequemer Mensch ist, ertragen wir seitdem gern.
25 Jahre später (2004) war MITCH RYDER wieder Gast im Rockpalast. Mit einem englischen Gitarristen und der deutschen Band ENGERLING. Auch dieses Konzert ist in voller Länge auf diesen DVDs.
Peter Rüchel, Rockpalast
---
Player
Tracklisting DVD:
DVD 1:
Grugahalle Essen, Germany, October 6th/7th 1979
01. Long Hard Road 6:17
02. War 8:28
03. Nice 'n' Easy 6:56
04. CC Rider/Jenny Take A Ride 4:13
05. Ain't Nobody White (Can Sing The Blues) 8:32
06. Devil With A Blue Dress On/Good Golly Miss Molly 3:51
07. Liberty 5:15
08. Dance Ourselves To Death 9:04
09. Wicked Messenger 3:30
10. Rock 'n' Roll 7:20
11. Tough Kid 5:39
12. True Love 7:07
13. Soul Kitchen 11:56
DVD 2:
Burg Satzvey, Germany, February 27th 2004
01. Yeah, You Right 6:42
02. From A Buick 6 5:00
03. Everybody Loses 5:05
04. True Love 7:33
05. The Porch 3:47
06. Ain't Nobody White (Can Sing The Blues) 6:04
07. CC Rider/Jenny Take A Ride 4:19
08. Rock 'n' Roll 6:15
09. Freezin' In Hell 8:40
10. Subterranean Homesick Blues 6:17
11. The Terrorist 4:57
12. Red Scar Eyes 11:42
13. Devil With A Blue Dress On 4:30
14. Heart Of Stone 11:47
15. Gimme Shelter 13:35
16. It Wasn't Me 6:38
17. Bass Intro/Little Wing 2:30
18. Soul Kitchen 13:01
Tracklisting 3CD:
CD 1:
Grugahalle Essen, Germany, October 6th/7th 1979
01. Long Hard Road 6:17
02. War 8:28
03. Nice 'n' Easy 6:56
04. CC Rider/Jenny Take A Ride 4:13
05. Ain't Nobody White (Can Sing The Blues) 8:32
06. Devil With A Blue Dress On/Good Golly Miss Molly 3:51
07. Liberty 5:15
08. Dance Ourselves To Death 9:04
09. Wicked Messenger 3:30
10. Rock 'n' Roll 7:20
11. Tough Kid 5:39
12. True Love 7:07
13. Soul Kitchen 11:56
CD 2:
Burg Satzvey, Germany, February 27th 2004
01. Yeah, You Right 6:42
02. From A Buick 6 5:00
03. Everybody Loses 5:05
04. True Love 7:33
05. The Porch 3:47
06. Ain't Nobody White (Can Sing The Blues) 6:04
07. CC Rider/Jenny Take A Ride 4:19
08. Rock 'n' Roll 6:15
09. Freezin' In Hell 8:40
10. Subterranean Homesick Blues 6:17
11. The Terrorist 4:57
CD 3:
01. Red Scar Eyes 11:42
02. Devil With A Blue Dress On 4:30
03. Heart Of Stone 11:47
04. Gimme Shelter 13:35
05. It Wasn't Me 6:38
06. Bass Intro/Little Wing 2:30
07. Soul Kitchen 13:01
 Photos: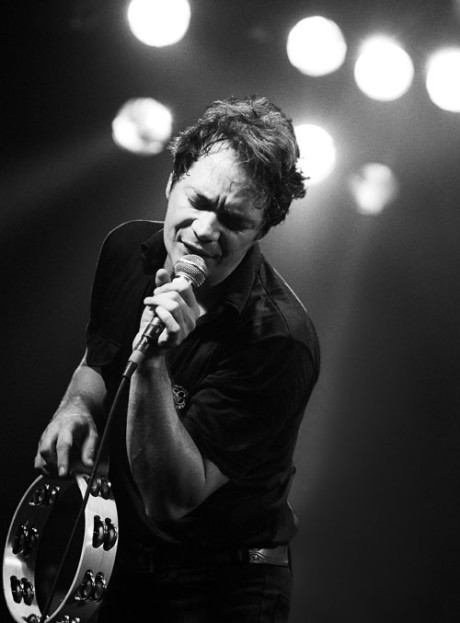 Photos by Manfred Becker