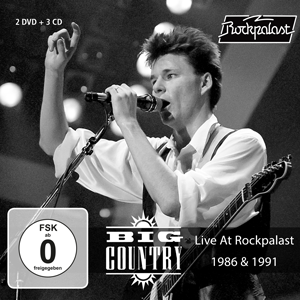 Downloads


PRINT Cover (2.0 MiB, 0 hits)
You do not have permission to download this file.


WEB Cover (647.7 KiB, 1 hits)
You do not have permission to download this file.


Presskit PRINT (13.4 MiB, 1 hits)
You do not have permission to download this file.


Presskit WEB (12.2 MiB, 1 hits)
You do not have permission to download this file.
Big Country
Live At Rockpalast 1986 & 1991
The tragic death of BIG COUNTRY's founder, lead singer and main songwriter Stuart Adamson in 2001 robbed music of what James Dean Bradfield of the Manic Street Preachers has called 'absolute genius'.
Adamson's guitar playing was, Bradfield continued, 'like a force of nature – the sound of thunder coming over the hills.' That sound, that brilliance, remains for old fans to revel in and new ones to discover on the band's studio albums and live performances. And of course in the current manifestation of BIG COUNTRY still touring the world, featuring original members Bruce Watson and Mark Brzezicki.
Germany – both East and West – was always hugely receptive to BIG COUNTRY, and today Bruce Watson remembers the frequent tours with great affection:
"Germany has always been fantastic for us right from the early days and our first tour there in 1984," he says. "We would always take maybe two or three weeks to spend in the country and do all kinds of gigs including festivals like the one where we were playing in East Berlin with Bryan Adams at the same time as Michael Jackson was playing in West Berlin!"
And coming to Germany was always a highlight of any European tour.
"It was always a pleasure doing the Rockpalast gigs." says Watson. "I remember in Essen we were staying in a massive hotel, so big it was like an airport terminal, opposite the local army barracks and we would watch the soldiers parading from our windows."
That would have been the performance on 15 March 1986 at the Grugahalle in Essen captured on this release. This was the beginning of the tour in support of BIG COUNTRY's third album "The Seer", and saw the band performing material from their first three albums which was astonishingly consistent and powerful.
Much has been made of the twin-guitar Celtic sound Adamson and Watson produced, with the use of the E-Bow and other effects producing something – to Adamson's annoyance – frequently compared to bagpipes. But particularly impressive from the 1986 concerts is the consummate musicianship of all concerned, from Brzezicki's complex drumming to Butler's rock-solid but fluid and imaginative bass. Overlaid, of course, with the intricate but immensely powerful six-string work from Adamson and Watson.
Nowadays, Bruce Watson – currently duetting on guitar in the 'new' BIG COUNTRY with his own son Jamie – laughs: "Our guitar parts sound a lot more complicated than they really are! In fact they're not that difficult to play. Stuart and I did so many overdubs in the studio that what we would do before a tour is sit down and listen to the record, and just work out which were the most important sounds, the most important guitar parts, and then we would determine how to produce them on stage with just the two of us."
By 1991, and the September Rockpalast gig at the Biskuithalle in Bonn, things were different. The band was touring in support of the "No Place Like Home" album, but the touring lineup did not include Mark Brzezicki, who had played on the record. And there was now a keyboard player.
"We had Chris Bell from Spear of Destiny on drums," says Watson, "and it was hard for him as he had to get Mark Brzezicki's drum parts just right. Colin Berwick was the keyboard player with THE BIG DISH (Scottish pop group) and I think it was easier for him as he was really doing fills and could work them out for himself in the live context."
The commitment of the band to the enthusiastic audience is evident, and while the sound of the band had moved, at least on the new material, towards something less overtly Scottish, the joy and inclusiveness of the performance was and is, as ever, thrilling.
From the perspective of today, both the 1986 and 1991 shows make plain the power and pertinence of the songs and their content. Says Bruce Watson:
"I think Stuart's lyrics seem very relevant today, what with the political situation we're facing – all the difficulties and darkness of society now, in both Europe and America. Stuart's lyrics were often very incisive and bleak, or looking at bleak political situations, but harnessed to music which was really uplifting. It's music which is maybe prophetic in some way – maybe Stuart was a bit of a prophet. It's one of the strong points of BIG COUNTRY, and why we're relevant today."
Tom Morton
---
Tracklists:
CD1 Grugahalle Essen 15. März 1986
1.    Wonderland    04:54
2.    Fields Of Fire    03:58
3.    Where The Rose Is Sown    04:50
4.    Rain Dance    04:37
5.    Remembrance Day    04:17
6.    Just A Shadow    04:38
7.    Steeltown    05:25
8.    Look Away    04:07
9.    Chance    06:01
10.    The Teacher    04:37
11.    In A Big Country    05:39
12.    Inwards    05:00
13.    Harvest Home    04:23
14.    The Storm    07:53
15.    Lost Patrol    04:59
16.    Tracks Of My Tears    03:15
Total:    78:33
CD2 Biskuithalle Bonn 06. September 1991    1/2
1.    We're Not In Kansas    07:30
2.    King Of Emotion    05:21
3.    Look Away    05:03
4.    Republican Party Reptile    05:18
5.    Beautiful People    06:01
6.    Winter Sky    04:41
7.    Thirteen Valleys    05:56
8.    Wonderland    08:33
9.    Ships    06:23
10.    In A Big Country    06:16
Total:    60:42
CD3 Biskuithalle Bonn 06. September 1991    2/2
1.    Leap Of Faith    05:12
2.    Chance    07:43
3.    Peace    04:22
4.    Fields Of Fire    07:18
5.    Mannish Boy    05:23
6.    Keep On Rockin'In A Free World    06:41
Total:    36:39
DVD Grugahalle Essen 15. März 1986
1.    Wonderland    04:54
2.    Fields Of Fire    03:58
3.    Where The Rose Is Sown    04:50
4.    Rain Dance    04:37
5.    Remembrance Day    04:17
6.    Just A Shadow    04:38
7.    Steeltown    05:25
8.    Look Away    04:07
9.    Chance    06:01
10.    The Teacher    04:37
11.    In A Big Country    05:39
12.    Inwards    05:00
13.    Harvest Home    04:23
14.    The Storm    07:53
15.    Lost Patrol    04:59
16.    Tracks Of My Tears    03:15
Total:    approx. 88 minutes
DVD Biskuithalle Bonn 06. September 1991
1.    We're Not In Kansas    07:30
2.    King Of Emotion    05:21
3.    Look Away    05:03
4.    Republican Party Reptile    05:18
5.    Beautiful People    06:01
6.    Winter Sky    04:41
7.    Thirteen Valleys    05:56
8.    Wonderland    08:33
9.    Ships    06:23
10.    In A Big Country    06:16
11.    Leap Of Faith    05:12
12.    Chance    07:43
13.    Peace    04:22
14.    Fields Of Fire    07:18
15.    Mannish Boy    05:23
16.    Keep On Rockin'In A Free World    06:41
Total:    approx. 111 minutes
---
Photos: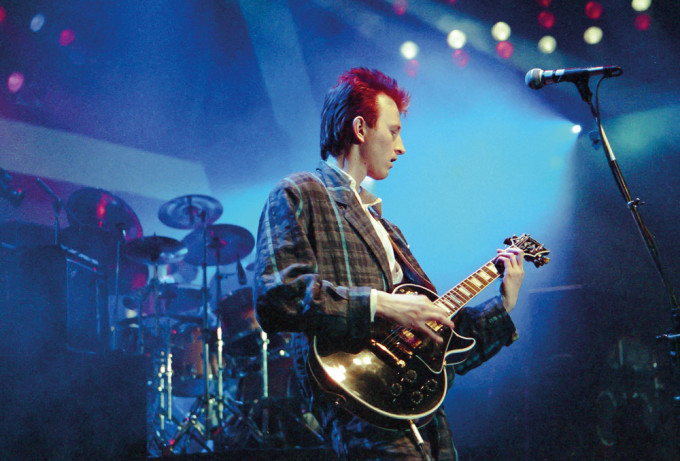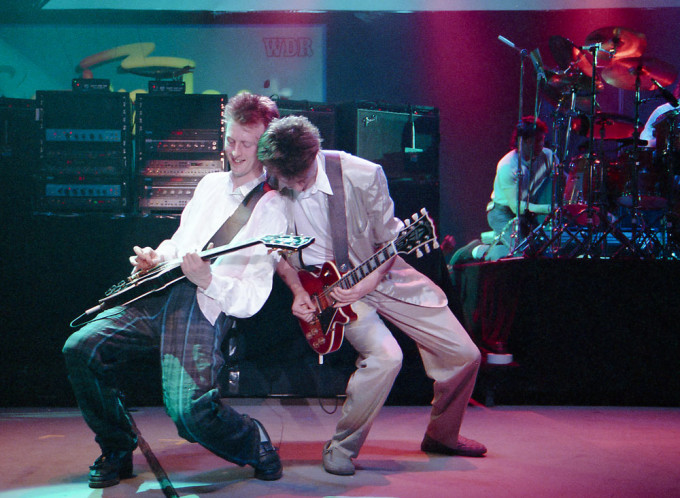 by Manfred Becker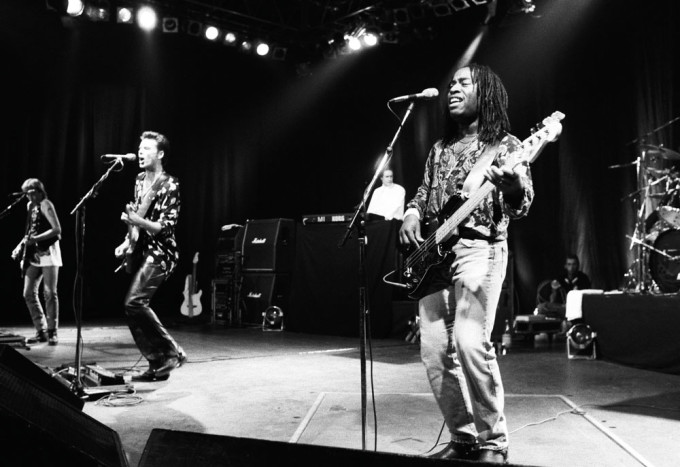 by Kerstin Stelter
---