Welcome to Mig-Music
We are dedicated to music and the music only!
Mig Music is an independent record label based in Hannover, Germany, since 2009.
to the old website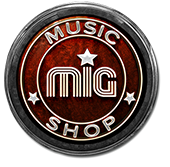 Farewell to Gottfried Tollmann (FRED BANANA COMBO)
It has been a very sad farewell to Gottfired Tollmann, who died October 6th 2015 after a fast and fatal disease. Gottfried, who together with his band FRED BANANA COMBO has been one of the great forces in the so called Düsseldorfer Szene of the late 70s amongst few others, wanted to enter the stage again and put all his effort in reuniting the FBC. They succeeded with the boxset " The Best Of The Old Shit And The New Shit " including a best of FBC, a DVD to their Rockpalast concert in 1980 and a full new album. His fatal desease sadly detained them from presenting it live.
On his explicit request we are now presenting his last video, which has been recorded a few days before his death. It is a document of a great musician and we will honour this last public sign of life with great respect.
Gottfried we won't forget you.
Your MIG Team
Current releases