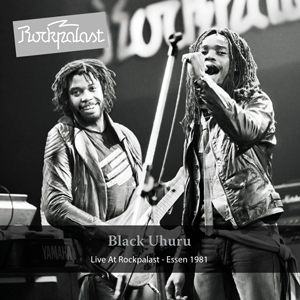 Date:

28.10.2016
28.10.2016
28.10.2016
Downloads


PRINT Cover (3.1 MiB, 1 hits)
You do not have permission to download this file.


WEB Cover (365.3 KiB, 1 hits)
You do not have permission to download this file.


Presskit PRINT (7.4 MiB, 0 hits)
You do not have permission to download this file.


Presskit WEB (1.6 MiB, 3 hits)
You do not have permission to download this file.
Black Uhuru
Live at Rockpalast – Essen 1981
Only a few months after the death of BOB MARLEY, the ROCKPALAST presented a reggae act in the Grugahalle in Essen for the very first time, a statement against the opinion that reggae was in the final stages. BLACK UHURU was selected; the most innovative that Jamaica had to offer apart from dancehall which was gaining more and more momentum.
In 1974, Duckie Simpson, Don Carlos and Garth Dennis had founded "Black Freedom" – "Uhuru" is Swahili and means "freedom". But before this line-up even released one album, Dennis had gone to the WAILING SOULS and Don Carlos preferred to work solo. Simpson did not want to give up the project and engaged Errol Nelson from the JAYS as well as a lead vocalist Michael Rose who had already released two veritable hits with 'Guess Who's Coming To Dinner' (for NINEY THE OBSERVER) and 'Born Free' (for FAT MAN). Rose knew Prince Jammy, the resident engineer in the studio of KING TUBBY, who was in the middle of building his own studio and production. Jammy had the reputation to be able to sniff a hit before it was even written, so the new trio of BLACK UHURU directly contacted him. He offered to produce not only a single but instantaneously a complete album. With the three of them he went to Harry J who had the most modern recording capacities. For the riddim playbacks Jammy asked musicians guaranteed for success like Sly Dunbar, Robbie Shakespeare, Chinna Smith, Keith Sterling or Winston Wright while he took care of the arrangements, the production and the financing and – in the end at his old workplace in TUBBY's studio also of the final mix.
In 1977, the debut album "Love Crisis" was released, shortly afterwards, Nelson went back to the JAYS and was replaced by Puma Jones. Four years and two albums later Jammy started to rework and remix the recordings because their re-release was due – under a new name and on the at that time leading English label Greensleeves.
By now BLACK UHURU had a militant image and the remix sound accordingly: aggressive and bass driven, full of overdubs. The new title of the album was programmatic "Black Sounds Of Freedom". The trio had found its style not least due to the fact that with SLY & ROBBIE it had grown to a quintet. The "riddim twins" who now were a permanent part of the band, meanwhile had produced the albums "Showcase" (a.k.a. "Black Uhuru" a.k.a. "Guess Who's Coming To Dinner") and "Sinsemilla". They were setting the musical direction with unmistakeable influences of rock, drifting away from the traditional one drop beat of the reggae which BOB MARLEY stood for. "When we went on tour", Sly Dunbar says, "We found out that the one drop groove didn't have that energy. So we figured out how the rock'n'roll people would play and we wanted that same energy in reggae" (from the book "The Anthology of Reggae Drumming", A Documentary by Alex Domhoever, 2016).
Similar criteria were used in composing the BLACK UHURU live line-up. SLY & ROBBIE recruited the American rock guitarist Daryl Thompson († 2014) whom they knew from their time with PETER TOSH. They engaged the keyboardist Franklyn "Bubbler" Waul who was however not allowed to play the reggae typical shuffle organ but to steadily thrash the offbeat onto the piano. Those two musicians who were being replaced at several shows with Keith Sterling and Mikey Chung formed the core of BLACK UHURU which together with a second guitarist and a percussionist also dominated the stage in Essen.
Sly's varied drum patterns, Robbie's bass drive, the straight offbeat and Thompson's warped guitar licks were a combination that never had been heard like this in reggae before, a hypnotic wall of sound as basis for the revolutionary Rastafarian lyrics of Michael Rose, Puma Jones and Duckie Simpson, now and then interrupted by surprising echo effects. After their performance at ROCKPALAST, BLACK UHURU enjoyed worldwide success including three more albums ("Red", "Chill Out", and "Anthem").
Then, Michael Rose no longer wanted to go on – allegedly because of jealousies from Duckie Simpson – and was replaced with Junior Reid. The new outfit managed to create two more UK Top 10 hits with the songs 'Fit You Haffe Fit' and 'The Great Train Robbery' and released the albums "Brutal" and "Positive". In 1990 Puma Jones died; SLY& ROBBIE retreated.
Duckie Simpson who held the rights to the name BLACK UHURU carried on with the project, reactivating the founders Don Carlos and Garth Dennis and releasing Albums like "Now" and "Iron Storm" but remained far from the bands' success of the 80's. Matching the trend, dub mixes were released out of turn on top of several albums during the bands' hot phase "Uhuru In Dub", "The Dub Factor", "Brutal Dub" and "Positive Dub", also each line-up released at least one live album. However, none of them possessed the quality and the energy of this ROCKPALAST performance in 1981.
Helmut Philipps (May 2016)
---
Tracklist:
DVD
Shine Eye Gal 05:37
Plastic Smile 05:11
Puff She Puff 05:23
King Selassie 05:01
Youth Of Eglington 05:06
Push Push 05:18
General Penitentiary 04:23
Happiness 04:48
World Is Africa 05:26
Sponji Reggae 05:10
Sinsemilla 07:24
Guess Who Is Coming To Dinner 07:06
Abortion 09:02
DVD total:                                                           approx. 79 Min
CD
Shine Eye Gal 05:37
Plastic Smile 05:11
Puff She Puff 05:23
King Selassie 05:01
Youth Of Eglington 05:06
Push Push 05:18
General Penitentiary 04:23
Happiness 04:48
World Is Africa 05:26
Sponji Reggae 05:10
Sinsemilla 07:24
Guess Who Is Coming To Dinner 07:06
Abortion 09:02
DVD total:                                                                            74:55
Tracklist: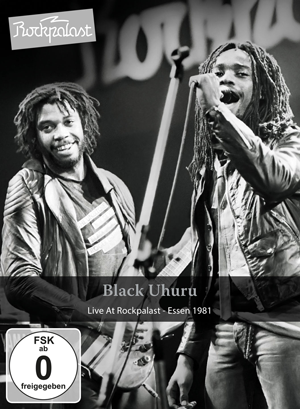 DVD
Shine Eye Gal 05:37
Plastic Smile 05:11
Puff She Puff 05:23
King Selassie 05:01
Youth Of Eglington 05:06
Push Push 05:18
General Penitentiary 04:23
Happiness 04:48
World Is Africa 05:26
Sponji Reggae 05:10
Sinsemilla 07:24
Guess Who Is Coming To Dinner 07:06
Abortion 09:02
DVD total:                                                           approx. 79 Min
Tracklist: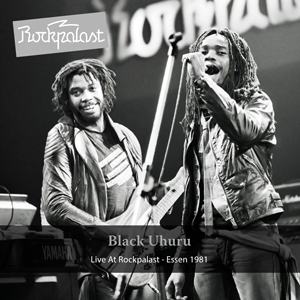 2LP
Side A:
Shine Eye Gal 05:37
Plastic Smile 05:11
Puff She Puff 05:23
King Selassie 05:01
Side B:
Youth Of Eglington 05:06
Push Push 05:18
General Penitentiary 04:23
Happiness 04:48
Side C:
World Is Africa 05:26
Sponji Reggae 05:10
Sinsemilla 07:24
Side D:
Guess Who Is Coming To Dinner 07:06
Abortion 09:02
total:                                                                                     74:55
---
Photos: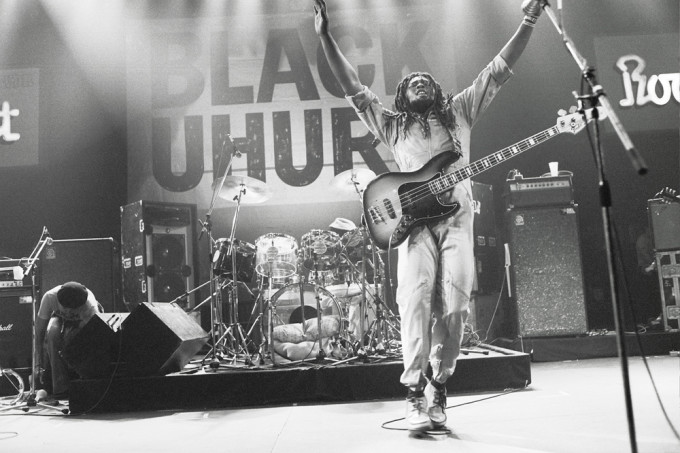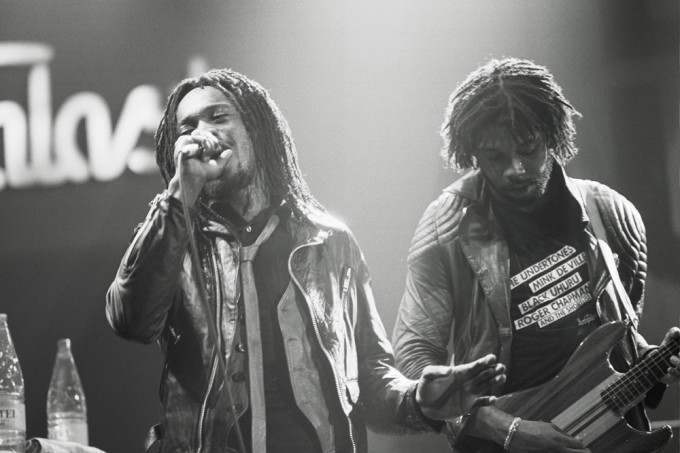 Photos by Manfred Becker