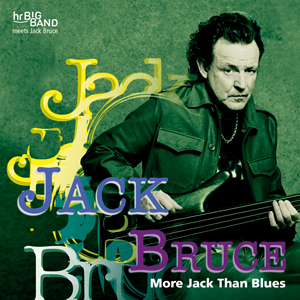 Downloads


PRINT Cover (2.0 MiB, 1 hits)
You do not have permission to download this file.


WEB Cover (1.9 MiB, 1 hits)
You do not have permission to download this file.


PRINT Kit (12.5 MiB, 1 hits)
You do not have permission to download this file.


WEB Kit (6.7 MiB, 1 hits)
You do not have permission to download this file.
Jack Bruce + hr-Bigband
More Jack Than Blues (Art of Groove)
The man remained self-assured: »I don't play jazz, I play Jack!« Anyone experienced Jack Bruce in concert has a strong sense of why the Scot is one of the great, obstinate characters on the Rock scene. He was not interested in fashion trends, the latest technologies were yesterday's news, and he countered the youth cult on the contemporary Pop scene with the experience of mor than 45 years as an active musician. In fact the song writer, bassist, pianist and singer had a priceless advantage compared to his younger competitors: Since his early days as a double bassist on the British Rhythm and Blues scene, he had cultivated a personal style that earns respect and credibility among his younger peers: »Most kids know 'Cream'. I can see that in all the mail I get on my Web site. Many young musicians tell me they discovered 'Cream' through their parents and then moved on to my solo albums.«
Jack Bruce, who lived with his parents in Canada and the USA in the 50s and went to no fewer than 14 schools, began playing the cello. But after studying composition at the Royal Scottish Academy of Music, he quickly discovered Jazz as his true passion. He switched to the double bass and played for the traditionally oriented »Bert Courtley Octet«, where he met the fiery drummer Ginger Baker and, thanks to an introduction by the saxophonist Dick Heckstall-Smith, the Blues fanatic Alexis Korner. In 1962, he became a member of his »Blues Inc.«, the first British Rhythm and Blues band. The following year, he strummed the bass for the »Graham Bond Organisation« and met the guitarist Eric Clapton during a five-month stint with »John Mayall's Bluesbreakers«. By then, Bruce had switched from double to electric bass, which he also played on Manfred Mann's hit »Pretty Flamingo«. But none of that fulfilled his own musical ambitions.
The strategic alliance named »Cream« formed by Clapton, Bruce and Baker in June 1966 had only one aim in mind: To take the three best British instrumentalists of the time and create something greater than the sum of their individual talents. Too often in the past an »All Star Formation« had not lived up to expectations. But when the three musicians, by then in their mid-twenties, who were still under contract with the successful bands of John Mayall, Graham Bond and Manfred Mann, jammed together in Baker's living room for the first time in June 1966, it sparked off an unexpected chain reaction that achieved new, explosive dimensions. The almost unreal flow of energy between the three musicians, their instinctive interaction and constant mutual inspiration covered a spectrum ranging across the British Blues movement, Psychedelic Rock and Progressive Pop, leaving a lasting impression well into the next decade. Never before had Blues-based Rock musicians improvised together so wildly and explored the limits of their instruments. Rock music matured with the aesthetic sincerity of »Cream«, and musicality became »hip«. In concert, their music sounded like a swirling witches' cauldron.
The aim was no longer to imitate Chicago Blues heroes. Instead they searched for an entirely new synthesis of Rhythm and Blues motifs, Rock rhythms and the adventure of improvisation.
It soon became clear that the future of the band lay in that seething unit of guitar, bass and drums. Their sound concept, which combined the metallic jangle of West Coast bands with the earthy, heavy sound of Black Electric City Blues, perfectly suited the trippy experiences young people were having as they discovered hallucinogenic drugs. People at the time said it was like listening to »Muddy Waters on Mars«. »Cream« also came at the right time for the birth of »superstars«, exceptional musical talents as figures to identify with. The classic Blues riffs on »Crossroads« and »Rollin' And Tumblin'« served as springboards for expansive improvisational dialogues between Bruce and Clapton. Electric bass playing explored new, uncharted melodic territory. Bruce played his instrument with the intensity of a lead guitarist. But after only two and a half years, the adventure was over as the tensions within the band became too overpowering.
Expectations were naturally very high ahead of the surprising, yet ever aspired reunion of »Cream« in the spring of 2005: Could the old magic of completely liberated Rock improvisation be revived within the group? Was it possible to drive psychedelically charged Blues Rock beyond its boundaries one more time? The four London and three New York concerts – which were recorded on DVD and CD – proved the band's chemistry still worked in that cauldron of the unexpected. It was reason enough for the organisers of the German Jazz Festival Frankfurt to ask the legendary composer/bassist/singer if he might be interested in performing the revived »Cream« classics and other important landmarks of his career in a Big Band context. Bruce, who was overwhelmed by requests from concert organisers in 2006 following the success of the »Cream« revival, immediately agreed after listening to recordings of the hr-Bigband.
He spontaneously invited the programme coordinators of the German Jazz Festival to his house in England for further planning. It was soon clear that the Big Band project would become something very close to Bruce's heart. He had already made a preliminary selection of songs and discussed with his guests from Frankfurt how to develop the pieces' arrangements for the hr-Bigband – demonstrating the relevant song structures in his living room on the grand piano or bass. His trust in the ability of the hr-Bigband's leader Jörg Achim Keller was so great that he even entrusted him with the arrangements and maintained close contact with him in the following weeks.
When rehearsals began in Frankfurt, all the participants quickly realised the meeting between Bruce and the hr-Bigband was nothing less than a stroke of luck: Tracks like Rope Ladder To The Moon and Never Tell Your Mother She's Out Of Tune unfold with unexpected radiance through its sophisticated wind section voicing. Inspired by the producer Kip Hanrahan, Bruce himself admitted he had long been attracted to the relaxed and diverse nature of Latin American rhythms. Numbers such as Milonga and The Consul At Sunset provide ample proof. Naturally, »Cream« classics such as Sunshine Of Your Love and Spoonful were essential. They were very unsentimental points of reference for Jack Bruce: »They're vantage points in a landscape I always enjoy returning to.« Other tracks from solo albums, such as the jubilant Theme For An Imaginary Western draw their energy from the concept of irreverent »recomposition«: »Nowadays, I try to approach my improvisations as new compositions. For instance, Charlie Parker was a genius at improvisation, while Thelonious Monk was a great 're-composer' in his solos. For me, that kind of 're-composing' is a way of improvisation that sounds more stable and structurally aware.«
The muscular Big Band version of Born Under A Bad Sign demonstrates how magical the seemingly spontaneous interplay of voice and bass figures can be. Looking back, Bruce admitted: »With 'Cream', I had to play my bass with the virtuosity of a guitarist to fill out our sound! We were just a trio and were therefore forced to play a lot of notes at the same time if we didn't want to sound thin and limp.« For many years, Jack Bruce had played a fretless bass because it allows him to harmonize the windings of his guttural voice with the bass lines. »I need the freedom to modulate a note when and where I want, not where a letter tells me to.« The sounds of his instrument combine with the sound of his words, producing sonic frictions that fill each other with significance.
The opening evening of the 37th German Jazz Festival Frankfurt showed us all how Bruce's voice has matured and become more flexible than ever before. He constantly heightens his rough edges with vibrant pathos. But with all the emphasis on his song, with all its pleading undertones – just listen to the dramatic escalation on the »Cream« track We're Going Wrong – Bruce maintains an aggressive vulnerability. »Since expressing the unspeakable is the essence of music, Blues has become increasingly important for me over the years.« The hr-Bigband's inspired playing and nimble precision were key factors in attaining dizzy musical heights at the Frankfurt Blues laboratory. For instance the young guitarist Martin Scales, who had only just become a permanent member of the ensemble, was undaunted by the task of treading in Eric Clapton's enormous footsteps, and played wild, audacious solos to fill the pieces' interior with surprising, unorthodox material. Jörg Achim Keller's arrangements transform the classic songs just enough to ensure that the charm of the familiar remains. Jack Bruce was obviously comfortable within their wonderful tonal architecture.
He was unconcerned whether the project hit the tone of current pop music trends. »You always have a limited amount of ideas – however talented you are,« the most influential bass stylist in Rock explained, adding the challenging comment: »Commercialism is the worst form of self-censorship.«
Peter Kemper
Tracklisting:
CD
1.    Never Tell Your Mother She's Out Of Tune    04:11
2.    Rope Ladder To The Moon    03:10
3.    Spoonful    08:50
4.    Smiles And Grins    07:13
5.    Born Under A Bad Sign    03:50
6.    Theme From An Imaginary Western    05:27
7.    Milonga    05:45
8.    The Consul At Sunset    04:32
9.    We're Going Wrong    06:00
10.    Deserted Cities Of The Heart    03:36
11.    Sunshine Of Your Love    07:48
CD complete    60:24
DVD:
1.    Never Tell Your Mother She's Out Of Tune    05:05
2.    Rope Ladder To The Moon    03:21
3.    Spoonful    09:21
4.    Smiles And Grins    07:41
5.    Born Under A Bad Sign    03:58
6.    Theme From An Imaginary Western    06:00
7.    Milonga    05:53
8.    The Consul At Sunset    04:59
9.    We're Going Wrong    06:15
10.    Deserted Cities Of The Heart    04:14
11.    White Room    07:30
12.    Sunshine Of Your Love    11:18
13.    Waiting For The Call    07:48
CD complete    83:23
Photos: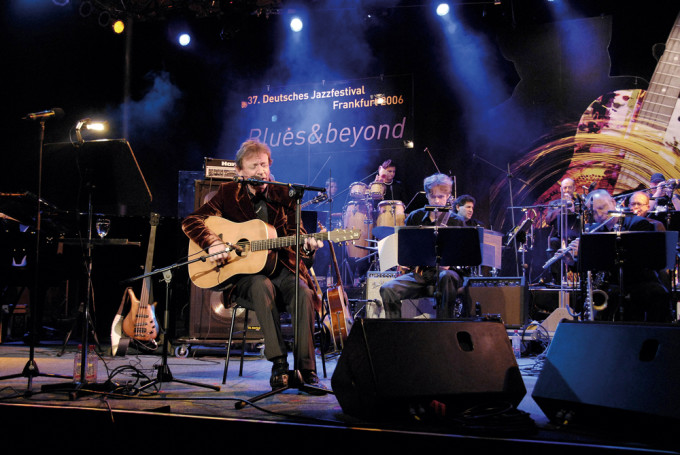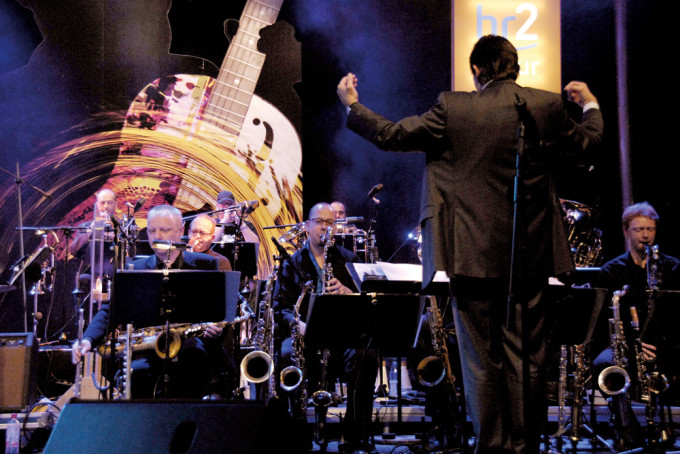 Photos by Norbert Klöppel