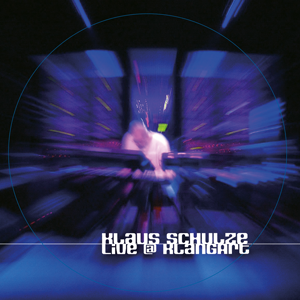 Downloads


PRINT Cover (2.8 MiB, 0 hits)
You do not have permission to download this file.


WEB Cover (525.7 KiB, 0 hits)
You do not have permission to download this file.


PRINT Kit (2.9 MiB, 1 hits)
You do not have permission to download this file.


WEB Kit (858.2 KiB, 0 hits)
You do not have permission to download this file.
Klaus Schulze
Live @ Klangart
Rerelease of the Klaus Schulze album "Live @ Klangart" out of 2001. This popular Klaus Schulze product is upgraded with a generous bonus.
Klaus Schulze about "Live @ Klangart":
The concert at the KlangArt festival in 2001 came about because I got a phone call from the promoters asking me if I'd like to perform there. After performances by Kraftwerk and Tangerine Dream I thought, of course, now it's my turn. The only thing that came to my mind was that it could be a good opportunity to work once again with [Wolfgang] Tiepold – since he is my special cellist. So that's the way I did it. The comfortable thing about playing with Tiepold is that we don't need to rehearse for a concert. I don't like rehearsals for concerts anyway. My motto is, "Those who rehearse beforehand later fall on their band mates' back." We rely on our intuition live on stage and our common interaction. Tiepolt doesn't need to have notes. And most importantly, he knows exactly when to stop playing. This is different compared to most bands where you know when the guitarist starts playing his solo he will never stop – unless you shoot him. Basically the only thing that can get in my way is my stage fright; and I haven't been able to get rid of that to this day. Before every gig I always feel queasy and my legs turn to jelly. It's a horrible feeling. Incidentally, something funny happened at the end of the KlangArt concert. I had performed my songs and gave an encore together with Tiepold and then, left the stage and went into the greenroom. There was a cold buffet there and Tiepold polished off a few rolls. We were sitting there talking, when somebody knocked at the door. The promoter came in and said, "I have never seen anything happen like this before. Nobody will leave". I said, "Why isn't anybody leaving?", and he said, "Well, the people won't leave, they're just staying seated". I said, "Then you have to turn on the house lights" – "But I did", he said, "and still nobody will leave!" He was really desperate at this point, "What on earth shall I do now?" So I went back to the stage, and the people were really just sitting there totally quiet. No one cried, "Encore!". So I just played a second encore without Tiepold. I think I told them, "The cellist can't join me because he's already got marmalade on his fingers".
Tracklist
CD 1:
Breeze To Sequence 15:08
Loops To Groove 12:58
From Church To Search 14:06
I Loop You Schwindelig 27:59
Bonus track:
Short Romance 05:44
Total:    75:55
CD 2:
La Fugue Sequenca 21:59
Cavalleria Cellisticana 21:51
Tracks Of Desire 09:13
Last Move At Osnabrueck 13:36
Bonus track:
OS 9.07 12:23
Total:                                                              79:02