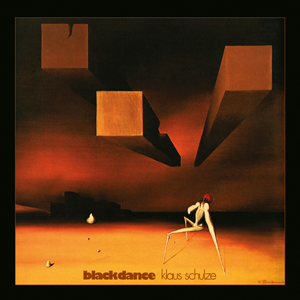 Downloads


PRINT Cover (1.9 MiB, 0 hits)
You do not have permission to download this file.


WEB Cover (521.0 KiB, 0 hits)
You do not have permission to download this file.


PRINT Kit (2.0 MiB, 1 hits)
You do not have permission to download this file.


WEB Kit (813.4 KiB, 0 hits)
You do not have permission to download this file.
KLAUS SCHULZE
Blackdance
Rerelease of the Klaus Schulze album "Blackdance" out of 1974. This popular Klaus Schulze product is upgraded with a generous bonus.
Klaus Schulze about "Blackdance":
"Blackdance" was my first album to be released in England on Caroline, a Virgin label. Before that [Virgin boss] Richard Branson had signed Tangerine Dream, and then he also contacted me. Of course, I said yes right away. Not just because Branson liked music from Germany but also since Virgin was at the time – apart from Island Records – the prestigious English record company. Nevertheless, joining Virgin was a giant step forward for me. The fact that I was now on an English label resulted in quite a different reception by the press. Furthermore, it was a worldwide deal which meant that all my records from "Blackdance" on would also be available in France, the US and Japan. For "Voices of Syn" (the longest piece on "Blackdance"), I used the voice of Ernst Walter Siemon. He was an opera singer who had rehearsed at the studio in Berlin where we had recorded the first Tangerine Dream record "Electronic Meditation" [1970]. He did a little collage for me that consisted of Verdi and a few other composers. I recorded it on my Revox tape machine and used it for this intro a few years later. I played the 12-string guitar on "Blackdance" myself, as well as Congas and Tabla. In retrospect I have to say however that I should have left the guitar out. At the time, I had been in New York and I bought a Martin 12-string at Manny's Music Store because it sounded so unbelievably wonderful. I thought I definitely had to use that sound in a song somewhere but after I had completed "Blackdance" I found this thing with the guitar and congas and tablas not that great anymore. It sounded too much like folk to me. On the other hand many people have told me that it was actually this sound which drew their attention to my music. I can't quite exactly remember the details of the bonus tracks. I think they originated at the The Manor Studio, owned by Virgin, back in 1975 where I produced the Far East Family Band [with Masanori Takahashi aka Kitaro] and it was possibly during a break when the guys were asleep. There are an incredible amount of tapes which I have filled with music, which are temporarily stored until [Klaus Dieter] Müller digs them out again. When even Müller doesn't know exactly when and where I did a piece of music, then no-one knows!
Tracklisting:
CD 1:
Ways Of Changes 17:14
Some Velvet Phasing 08:24
Voices Of Syn 22:40
Bonus track:
Foreplay 10:33
Synthies Have (no) Balls? 14:42
Total:                                                          73:33