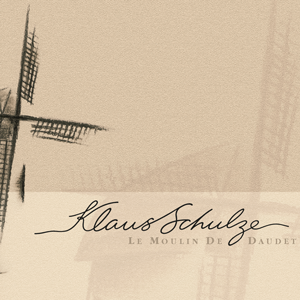 Downloads


PRINT Cover (5.2 MiB, 0 hits)
You do not have permission to download this file.


WEB Cover (2.8 MiB, 0 hits)
You do not have permission to download this file.


Presskit PRINT (9.5 MiB, 2 hits)
You do not have permission to download this file.


Presskit WEB (7.3 MiB, 0 hits)
You do not have permission to download this file.
Klaus Schulze
Le Moulin De Daudet
"The trademark of epic poet Klaus Schulze is still distinctive even in the 21 short and very short pieces…Ready for an Oscar. ("Keyboards"/Germany, July 1994)
"Le Moulin De Daudet", originally released in 1992, was a commission for the French-Arabian director Samy Pavel. Klaus invited director and producer to visit him in his studio. For one week they cooked, ate, drank good wines and Klaus played the soundtrack direct to the rough cut of the movie.
Another pearl from the huge Schulze cosmos.
---
Klaus Schulze talks about "Le Moulin de Daudet":
"Le Moulin de Daudet was a commission. In 1979, French-Arabic director Samy Pavel had already used my composition "Friedrich Nietzsche" [taken
from the album "X", 1978] as requiem for a film on the French singer Claude François, who had died very young. When he intended to make a film about
the French author Alphonse Daudet, he again approached me, only this time he wanted to use original music and not a song taken from a record.
Samy Pavel visited me in my studio and stayed for a week. And the producer of the film came from Italy, too. By the way, this was Fabrizio Uderzo, brother
of the "Asterix" artist. He arrived with his Italian specialities – olive oil, Parmesan cheese, wine, everything of the most excellent! – and he made a
meal for all of us over there in the kitchen. Never again did I enjoy such a good meal! Then we watched the rough cut of the film, and Samy explained
what kind of music he had in mind. And I thought it was great that he quoted Frederico Fellini – the Italian film director! Fellini often has the feeling with
his work that he is always shooting the same film.
That also fits for me – sometimes I feel like I'm always doing the same music, haha! The work with Samy was terrific. The music for every film scene was recorded live. He then often said, you have prepared that pretty well, that's a beautiful theme! And I said to him: "No, I have played this for the first time, the theme just came to my
mind!" It also was a marvellous collaboration because Samy gave me a free hand. He only expected from me an unterstanding of the film, and sometimes he said, maybe you could add a little bit more choir here? "No problem, I will do so." Then I sat down and played, and it fitted. Samy was so enthusiastic about the music that he later mixed it
much too loud in the movie. I went to Paris to this film studio because of the final mix, and I said to him: "Man, turn down the music a bit! You can't hear what the actors are saying." However, he wanted to have the music loud!
In retrospect, I have to say that no other director in the movie business took me so seriously except Gerald Kargl, the director of Angst, who cut his film to my music.
For me the interesting thing about composing a score in general is that you need to have discipline which I don't have at all. Normally I just do what I like to do – thanks God I'm able to and I'm allowed to do that. But with movies you have precisely to follow the director. He says this is a three minute long scene, and in these three minutes you have to express everything! You have to get straight to the point. This is a wonderful challenge."
---
Tracklist:
The Beginning/The Delegates 04:04
Mother Sadness 03:00
The Loss Of The Factory 01:59
The Youth 01:46
Friday's Departure 00:49
The Mill Of Maitre Cornille 01:47
Maitre Cornille In The Fields 01:08
Folk Dance 01:28
The Discovery Of Maitre Cornille's Secret 01:49
Joy Of Maitre Cornille/Garden & Youth 03:15
Landscape/Way To The Old People 02:38
Old People's Piano 03:24
Old People's Farewell 02:01
Exodus 04:52
Le Pertit Dauphin I 05:27
Le Pertit Dauphin II 01:34
First Church Sequence 01:57
Sound Church Sequence & Organ 06:56
Pierre 02:16
Paradise & Inferno 05:54
Finale 04:56
total:                                                                  62:58
---